Future Treasures: Your Brother's Blood by David Towsey
Future Treasures: Your Brother's Blood by David Towsey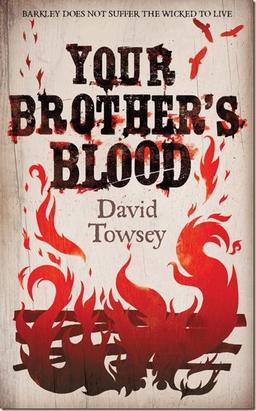 Here's an imaginative debut novel set centuries in the future, that sounds more like a weird western than science fiction. And you know how we feel about weird westerns! I've already pre-ordered a copy.
An unnamed event has wiped out most of humanity, scattering its remnants across vast and now barren lands reminiscent of the 19th century western frontier of America. Small clusters of humans still cling to existence in a post-apocalyptic world that is increasingly overrun by those who have risen from the dead — or, as the living call them, the Walkin'.

Thomas, a thirty-two year old conscripted soldier, homeward bound to the small frontier town of Barkley after fighting in a devastating civil war, is filled with hope at the thought of being reunited with his wife, Sarah, and daughter, Mary, both named after characters in the Good Book. As it turns out, he also happens to be among the Walkin'.

Devoid of a pulse or sense of pain, but with his memories and hopes intact, Thomas soon realizes that the living, who are increasingly drawn to the followers of the Good Book, are not kindly disposed to the likes of him. And when he learns what the good people of Barkley intend to do to him, and to his family, he realizes he may just have to kidnap his daughter to save her from a fate worse than becoming a member of the undead.

When the people of Barkley send out a posse in pursuit of father and daughter, the race for survival truly begins…
Your Brother's Blood will be published by Jo Fletcher Books on December 1, 2015. It is 336 pages, priced at $24.99 in hardcover and $11.99 for the digital edition.