New Treasures: The Wheel of Time Companion by Robert Jordan, et al
New Treasures: The Wheel of Time Companion by Robert Jordan, et al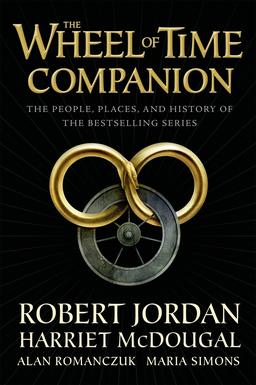 Robert Jordan's 15-volume The Wheel of Time series is one of the most popular fantasy series written in the last 50 years, with over 44 millions copies sold (second only to George R.R. Martin's A Song of Ice and Fire, with 60 million). It hasn't enjoyed the same level of scholarship as Martin's epic… but all that changed with the arrival of a single book, the massive 815-page Wheel of Time Companion, published by Tor Books on November 3.
Since its debut in 1990, The Wheel of Time by Robert Jordan has captivated millions of readers around the globe with its scope, originality, and compelling characters. Over the course of fifteen books and millions of words, the world that Jordan created grew in depth and complexity. However, only a fraction of what Jordan imagined ended up on the page, the rest going into his personal files. Now The Wheel of Time Companion sheds light on some of the most intriguing aspects of the world, including biographies and motivations of many characters that never made it into the books, but helped bring Jordan's world to life.

Included in the volume in an A-to-Z format are:

– An entry for each named character
– An inclusive dictionary of the Old Tongue
– New maps of the Last Battle
– New portraits of many characters
– Histories and customs of the nations of the world
– The strength level of many channelers
– Descriptions of the flora and fauna unique to the world
– And much more!

The Wheel of Time Companion will be required reading for The Wheel of Time's millions of fans.
The Wheel of Time Companion: The People, Places and History of the Bestselling Series was written by Robert Jordan, Harriet McDougal, Alan Romanczuk, and Maria Simons, and published by Tor Books on November 3, 2015. It is 815 pages, priced at $39.99 in hardcover and $19.99 for the digital edition.