Comedy in Fantasy: The Ebenezum Trilogy by Craig Shaw Gardner
Comedy in Fantasy: The Ebenezum Trilogy by Craig Shaw Gardner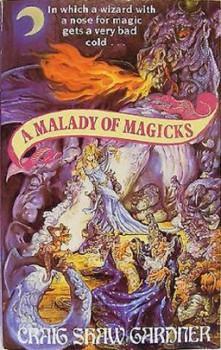 The late Terry Pratchett left a large gap in the Comedic Fantasy genre which, for many, may never be filled. Love him or hate him (I have found myself doing both over the years), he pretty much defined the field.
I first came across Craig Shaw Gardner not long after I read The Colour of Magic. Giving away my age here, but when I read The Colour of Magic I think only the third Discworld book, Equal Rights, has just been published. Needless to say, like anything new, different and — more precisely — successful, there was demand for more of the same. Enter Craig Shaw Gardner. While I doubt they were consciously trying to emulate Pratchett, it is possible that Gardner's publisher may have drawn a parallel of sorts, and decided to try and brand his novels in a similar way.
Thus it was that I encountered A Malady of Magicks, which immediately caught my eye with its familiar cover style. The cover blurb:
In which a wizard with a nose for magic gets a very bad cold…
was intriguing. Add to that a Josh Kirby cover and one can start to see the parallels, intended or not. I didn't buy the book, but made a mental note of it, and saw that in due course books two and three appeared: A Multitude of Monsters and A Night in the Netherhells respectively. Others followed.
I was of course looking at the British versions, published by Headline in 1988 and 1989 and as mentioned, all with Josh Kirby covers. The series was originally published in the US by Ace in 1986 and 1987, with the first book, A Malady of Magicks, reprinted three times in 1986.
The series was collected in an hardback omnibus volume titled The Exploits of Ebenezum for the Science Fiction Book Club in 1987. All the US covers were by Walter Valez.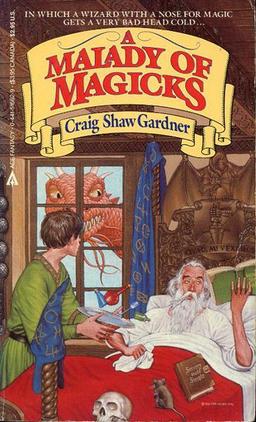 [Click on the books for bigger images.]
Years later I managed to to pick up the whole Ebenezum trilogy and can say I thoroughly enjoyed it. Was it Pratchett? Not a chance. Was it funny? Yes, it had its moments.
Was it fair to try and market it as a Pratchettesque book? I don't think so. I can try and put myself in the mind of the publisher and see the sales value in doing so, but I don't think it was really fair to the author or the reader. Mind I am working specifically from the UK based series here, within the States the case may have been very different. The mere fact that the first book was reprinted three times in the same year attests to its popularity in its own right.
The series itself is entertaining, concerning itself with a wizard and his apprentice (Wuntvor) who have to deal with escalating challenges as they trundle after a demon who has been summoned by mistake. They pick up some oddball friends along the way, and as the books progress meet various folk and obstacles as they try to save the world.
It is a light hearted, tongue-in-cheek take on some of the classic fantasies one has read. Some of the humor seems a bit forced, almost like Mr Gardner was trying too hard, but at times the humor was genuine.
Key here, as mentioned by M. Harold Page in his 2014 article Why Humorous Fantasy Isn't Popular, is to remember this is a very hard sub-genre to write in. The fact that Craig Shaw Gardner was able to publish two such series and then similar books such as, inter alia, Slaves of the Volcano God and The Other Sinbad, shows his skill at his subject.
Craig Shaw Garner has written a number of different books. A follow up series (the Wuntvor Trilogy) presumably picks up where the Ebenesum Trilogy left off. It includes: A Difficulty with Dwarves, An Excess of Enchantments and A Disagreement with Death.
---
Tony Den has written a few previous reviews on the Black Gate Blog. His personal website is www.runequest.za.org