New Treasures: If Then by Matthew De Abaitua
New Treasures: If Then by Matthew De Abaitua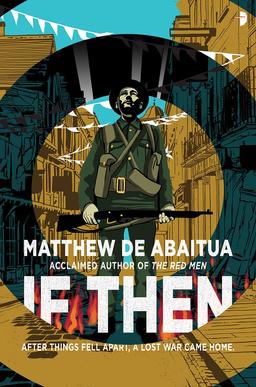 I spend a lot of talking talking to publicists, reading review copies, following blogs, and generally keeping up on the latest books and hot new writers in the genre. But to really stay informed, nothing beats a trip to a well-stocked bookstore. Case in point: Matthew De Abaitua's latest novel If Then, which I discovered on the New Releases shelf on my Saturday trip to Barnes & Noble. The book description piqued my interest — and when I saw it was published by Angry Robot, that sealed the deal.
In the near future, after the collapse of society as we know it, one English town survives under the protection of the computer algorithms of the Process, which governs every aspect of their lives. The Process gives and it takes. It allocates jobs and resources, giving each person exactly what it has calculated they will need. But it also decides who stays under its protection, and who must be banished to the wilderness beyond. Human life has become totally algorithm-driven, and James, the town bailiff, is charged with making sure the Process's suggestions are implemented.

But now the Process is making soldiers. It is readying for war — the First World War. Mysteriously, the Process is slowly recreating events that took place over a hundred years ago, and is recruiting the town's men to fight in an artificial reconstruction of the Dardanelles campaign. James, too, must go fight. And he will discover that the Process has become vastly more sophisticated and terrifying than anyone had believed possible.
Matthew De Abaitua's first novel, Red Men, was shortlisted for the Arthur C. Clarke Award.
If Then was published by Angry Robot on September 1, 2015. It is 412 pages, priced at $7.99 in paperback and $6.99 for the digital edition. The cover is by Raid 71. Learn more at Angry Robot.