Vintage Treasures: The Lights of Barbrin by Joseph Burgo
Vintage Treasures: The Lights of Barbrin by Joseph Burgo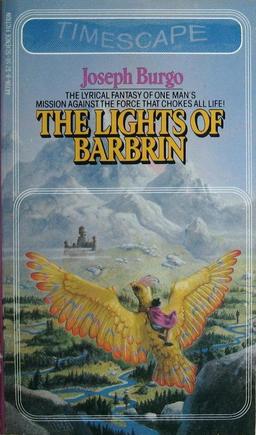 I haven't said a lot about the Timescape imprint from Pocket Books, one of the most prestigious publishing lines of the 80s. Founded by David G. Hartwell, it was named after Gregory Benford's SF novel Timescape, and it produced over 100 paperbacks between 1981 to 1985 — including the four volumes of Gene Wolfe's Book of the New Sun, Philip K. Dick's The Divine Invasion and The Transmigration of Timothy Archer, Clark Ashton Smith's The City of the Singing Flame, John M. Ford's The Dragon Waiting, Donald Kingsbury's Courtship Rite, and many others — including many Hugo and Nebula award nominees. It was shut down by Pocket in 1985, as it wasn't producing a sufficient number of bestsellers for its budget. The line has a sterling reputation for quality. And among the many high-profile books, it also produced a number of highly regarded titles from lesser known authors… including The Lights of Barbrin, the debut fantasy from an unknown writer named Joseph Burgo.
The Quest of Ehred the Mighty

Braced by the strength of his Haziad — the four freedom fighters who represent fire, air, earth, and water — fire-bearer Ehred fought his way to importance, wielding a mighty force that made him all powerful in Nabrilehr, the land of the misfits.

But the evil Rand, barred from all Haziads because of his twisted devotion to the dangerous Unmaker, strove long and hard — and finally stole Ehred's fire power for his own destructive use.

Now Ehred and his Haziad must steal back the blazing power — for in Rand's hand it threatens to consume Ehred's world!
Burgo never produced another fantasy novel, and this is his only contribution to the field. The Lights of Barbrin was published in paperback by Pocket in September 1978, and reprinted under the Timescape imprint in February 1982. It is 192 pages, priced at $2.50. The cover is by Carl Lundgren. There is no digital edition, and it has now been out of print for 33 years.