Vintage Treasures: Lyrec by Gregory Frost
Vintage Treasures: Lyrec by Gregory Frost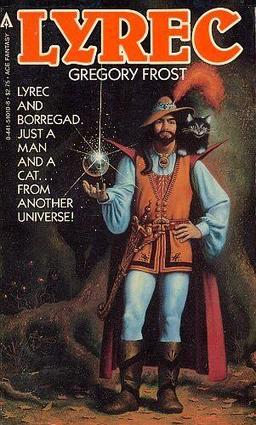 Gregory Frost is the author of the popular Shadowbridge novels (Shadowbridge and Lord Tophet) and the World Fantasy Award nominee Fitcher's Brides, among others.
But I admit the the novel I still give to friends to introduce them to Frost is his debut Lyrec, a fantasy romp about a long-lived space traveler, his talking cat Borregad, and the evil menace they've tracked across countless star systems, the ruthless Miradomon. Lyrec was published as a paperback original by Ace in 1984, and went through multiple reprintings. This one was on a lot of reading lists in the 80s.
Lovelorn Lyrec and wise-cracking Borregad have been companions through world after world, adventure after adventure. They seek Lyrec's lost lady, and vengeance for the obliteration of their homeworld. But the evil Miradomon is always one step ahead, leaving a dark trail of destruction behind him.

Crossing a chain of parallel universes, our heroes must take on new identities in each new world. In his latest incarnation, Lyrec has done quite well for himself. He is young, strong, handsome, skilled in the arts of war and song. Poor Borregad blew it. He's stuck in the body of a cat. And Miradomon?

This time, he's a god.
Lyrec was published in February 1984 by Ace Books. It is 267 pages, priced at $2.75 in paperback. The cover is by Romas. It was released in digital format in 2011, and is currently available for $4.99.
See all of our recent Vintage Treasures here.