New Treasures: The Devil's Only Friend by Dan Wells
New Treasures: The Devil's Only Friend by Dan Wells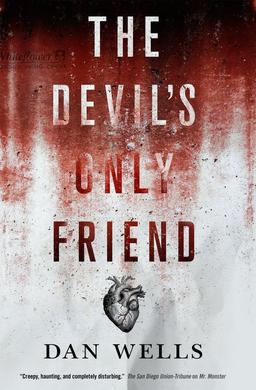 Dan Wells' novel, I Am Not A Serial Killer, featuring monster-killing teenage sociopath John Cleaver, was the first novel in a trilogy. It was followed by Mr. Monster (2010) and I Don't Want To Kill You (2011). Wells became a New York Times bestseller with Ruins, the third novel in his YA Partials series. Now he returns to the John Cleaver series with the first novel in a brand new trilogy, The Devil's Only Friend.
John Wayne Cleaver hunts demons: they've killed his neighbors, his family, and the girl he loves, but in the end he's always won. Now he works for a secret government kill team, using his gift to hunt and kill as many monsters as he can…

…but the monsters have noticed, and the quiet game of cat and mouse is about to erupt into a full scale supernatural war.

John doesn't want the life he's stuck with. He doesn't want the FBI bossing him around, he doesn't want his only friend imprisoned in a mental ward, and he doesn't want to face the terrifying cannibal who calls himself The Hunter. John doesn't want to kill people. But as the song says, you can't always get what you want. John has learned that the hard way; his clothes have the stains to prove it.

When John again faces evil, he'll know what he has to do.
I'm not the only reader in my house, and I have to admit I wasn't the one who discovered The Devil's Only Friend. My daughter brought it home from the bookstore on Saturday, and has been glued to it ever since. Maybe I'll get her to do a review.
The Devil's Only Friend was published simultaneously in hardcover and trade paperback by Tor Books on June 16, 2015. It is 304 pages, priced at $25.99 in hardcover, $14.99 in trade paperback, and $9.99 for the digital version.