Future Treasures: Shower of Stones by Zachary Jernigan
Future Treasures: Shower of Stones by Zachary Jernigan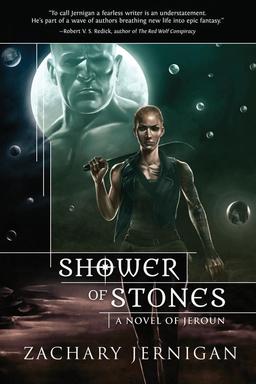 Zachary Jernigan's first novel of Jeroun, No Return, was released in 2013, and widely praised. Staffer's Book Review called it "The most daring debut novel of 2013," and Elizabeth Hand said, "It has the sweep of Frank Herbert's Dune and the intoxicatingly strange grandeur of Gene Wolfe's Book of the New Sun… One of the most impressive debuts of recent years."
The long-awaited concluding novel in the two-book series, Shower of Stones, will be published by Night Shade this month, and it returns to the harsh world of Jeroun, which pits men against gods and swords against civilization-destroying magic.
At the moment of his greatest victory, before a crowd of thousands, the warrior Vedas Tezul renounced his faith, calling for revolt against the god Adrash, imploring mankind to unite in this struggle.

Good intentions count for nothing. In the three months since his sacrilegious pronouncement, the world has not changed for the better. In fact, it is now on the verge of dying. The Needle hangs broken in orbit above Jeroun, each of its massive iron spheres poised to fall and blanket the planet's surface in dust. Long-held truces between Adrashi and Anadrashi break apart as panic spreads.

With no allegiance to either side, the disgraced soldier Churls walks into the divided city of Danoor with a simple plan: murder the monster named Fesuy Amendja, and retrieve from captivity the only two individuals that still matter to her — Vedas Tezul, and the constructed man Berun. The simple plan goes awry, as simple plans do, and in the process Churls and her companions are introduced to one of the world's deepest secrets: A madman, insisting he is the link to an ancient world, offering the most tempting lie of all… Hope.
Shower of Stones will be published by Night Shade Books on July 14, 2015. It is 238 pages, priced at $26.99 in both hardcover and digital formats. The cover is by Alvin Epps. Read more here.