Future Treasures: The Empress Game by Rhonda Mason
Future Treasures: The Empress Game by Rhonda Mason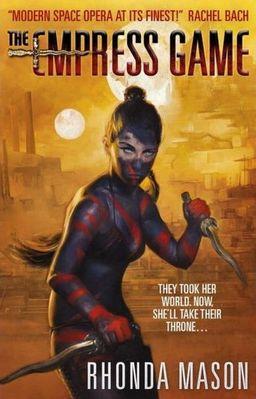 Titan Books has been doing some terrific stuff recently, especially in the realm of intriguing fantasy series. So when they sent me an advance proof of Rhonda Mason's The Empress Game, the first installment in a promising new space fantasy coming out later this month, I promised myself I'd read it.
And I totally failed. I told myself I probably wouldn't have liked it, anyway. And then Liz Bourke totally trashed that theory, with this stellar review over at Tor.com, calling it an "old-fashioned pulp space opera":
Rhonda Mason's science fiction debut — first in a projected trilogy — is unashamedly old-fashioned pulp space opera… Kayla Reunimon makes a living through brutal gladiatorial combat in an arena on a world that probably counts as a classic space opera "hive of scum and villainy." She used to be an Ordochian princess, trained to protect her psychic twin, until an Imperial-supported coup overthrew her government and killed most of her family. She escaped with her last surviving younger brother, but without resources, they've been stranded, and Kayla has kept them safe and fed as best her training allows. But when a mysterious stranger approaches her with an offer she can't refuse — an offer he won't permit her to refuse — their precarious equilibrium is irretrievably altered. The stranger — Malkor — might offer them their best hope of survival, because their enemies are closing in…

This is a novel about fighting princesses. And family. But you pretty much had me at gladiatorial princesses. I'm not going to pretend this is particularly admirable of me, but I'm terribly afraid I like that trope far, far too much. I can forgive a novel a lot for combining angst and violence in an entertaining way, and The Empress Game does that.
Looks like I'm going to have to read it after all. The Empress Game will be published by Titan Books on July 14, 2015. It is 352 pages, priced at $14.95 in trade paperback and $9.99 for the digital edition. The cover artist is uncredited.