New Treasures: The Revolutions by Felix Gilman
New Treasures: The Revolutions by Felix Gilman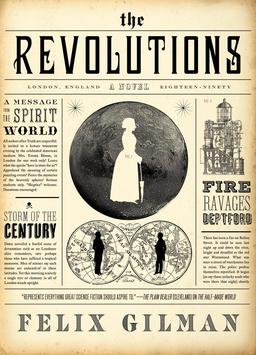 Matthew David Surridge called Felix Gilman "one of the strongest new novelists in fantasy fiction today." Over the past eight years Gilman has been gradually making a name for himself, with popular steampunk novels like Thunderer, Gears of the City, and the duology The Half-Made World and The Rise of Ransom City. For his latest, The Revolutions, now available in paperback from Tor, Gilman has written a sweeping stand-alone tale of Victorian science fiction, arcane exploration, and planetary romance.
In 1893, young journalist Arthur Shaw is at work in the British Museum Reading Room when the Great Storm hits London, wreaking unprecedented damage. In its aftermath, Arthur's newspaper closes, owing him money, and all his debts come due at once. His fiancé Josephine takes a job as a stenographer for some of the fashionable spiritualist and occult societies of fin de siècle London society. At one of her meetings, Arthur is given a job lead for what seems to be accounting work, but at a salary many times what any clerk could expect. The work is long and peculiar, as the workers spend all day performing unnerving calculations that make them hallucinate or even go mad, but the money is compelling.

Things are beginning to look up when the perils of dabbling in the esoteric suddenly come to a head: A war breaks out between competing magical societies. Josephine joins one of them for a hazardous occult exploration-an experiment which threatens to leave her stranded at the outer limits of consciousness, among the celestial spheres.

Arthur won't give up his great love so easily, and hunts for a way to save her, as Josephine fights for survival… somewhere in the vicinity of Mars.
The Revolutions was published in hardcover by Tor Books on April 1, 2014, and reprinted in trade paperback on April 7, 2015. It is 416 pages, priced at $16.99, or $9.99 for the digital edition.