Goth Chick News: 31 Shades of Malcolm McDowell
Goth Chick News: 31 Shades of Malcolm McDowell
You know how some people talk about seeing something that scarred them for life?
I mean really scarred – like way worse than any episode of My Strange Addiction, or "casual Friday" in the Black Gate offices in July.
This happened for me in my early teens when during a sleepover, my friend snagged her Dad's secret, "unrated" copy of Malcolm McDowell in Caligula.
Though I've seen things since that could be categorized as "more disturbing," nothing has come close to those vomit-inducing scenes burned into my 14 year old retinas.
Of course, as you probably guessed, in the coming years I got seriously busy seeking out every bit of cinema that McDowell had ever done and eventually found my way to Cat People and A Clockwork Orange. If you only know McDowell from Star Trek or Entourage, you definitely need to check out his earlier work.
It takes a special talent evoke an audience's gag reflex with that much panache.
So it really came as no surprise that today, Rob Zombie's Facebook page made the following announcement.
Here is your first look at Malcolm McDowell from my next film 31. Malcolm plays Father Napoleon-Horatio-Silas Murder the mastermind behind the most dangerous game alive, 31.

31 follows five carnival workers who are kidnapped the night before Halloween and held hostage in a large secret compound known as Murder World.

Once there, they have 12 hours to survive a terrifying game called 31 in which 'The Heads' — murderous maniacs dressed as clowns -– are released to hunt them down and kill them.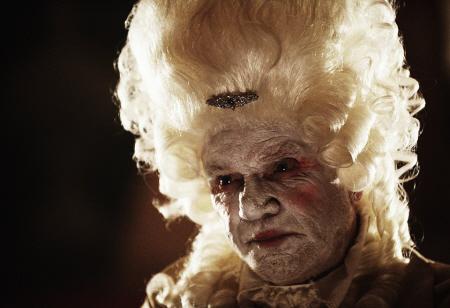 According to Zombie, 31 refers to the date of Halloween, which fueled speculation it was the third installment of his rebooted Halloween series.  Failing that, rumors then placed the film as the third movie in the House of 1000 Corpses and The Devil's Rejects universe and would follow Sid Haig's character Captain Spaulding.
Ultimately, Zombie announced that 31 would be an original story not based on any previous work.  He apparently came up with the idea after reading a statistic that stated Halloween was the number one day of the year when people go missing.  Zombie was further inspired by visiting his sponsored "Great American Nightmare" attraction at Great America's Fright Fest where actors chase guests dressed as chainsaw-wielding clowns.
It's just as upsetting as it sounds… trust me.
Mr. McDowell celebrated his 72nd birthday on June 13th and you just have to applaud him for the wig and the lipstick.
Filming on 31 wrapped in April and is currently in post-production, though it doesn't yet have a release date beyond sometime in 2016 (October for instance?).
Nice job Malcolm. My gag reflex and I can't wait until next year…
Do you have a favorite Rob Zombie or Malcolm McDowell movie?  Have you ever seen the Bob Guccione funded Caligula?  Post a (maximum PG13-rated) comment or drop a line to sue@blackgate.com.