New Treasures: Hexed: The Sisters of Witchdown by Michael Alan Nelson
New Treasures: Hexed: The Sisters of Witchdown by Michael Alan Nelson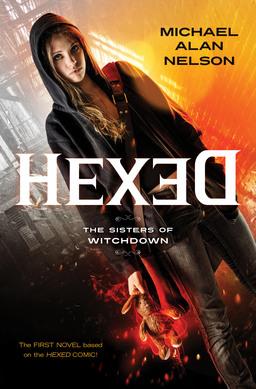 I'm not familiar with the the BOOM! comic Hexed, but perhaps I should be. It's apparently a spin-off from the horror comic Fall of Cthulhu, but you don't need to be familiar with her appearances there to enjoy her adventures in her own comic. I'm not sure how many issues were published, but enough to be collected into at least two graphic novels, the first published in March 2010, illustrated by Pretty Deadly Artist Emma Rios, and the second by newcomer Dan Mora, to be released this July.
Lucifer the thief, the star of Hexed, seems like a pretty interesting character, and The Sisters of Witchdown marks her first appearance in a prose novel. It's being marketed as a YA title, but I'm intrigued enough to check it out.
Luci Jenifer Inacio das Neves, Lucifer for short, isn't your typical teenaged girl. She's a thief who survives by stealing bad things from bad people in the magical and mystical underworld hidden beneath our own. So when a policeman's daughter, Gina, is kidnapped by a force he can't explain, Lucifer is the only one who has a chance at getting his daughter back.

With the unsolicited help of Gina's friends, including Gina's boyfriend David, Lucifer's investigation leads to the unfortunate truth of the kidnapping. Gina was taken to an otherworldly dimension by a creature of unspeakable evil: one of the Seven Sisters of Witchdown. Against all odds, Lucifer must use every magical tool hidden in her trick bag to steal her way into the Shade and bring Gina back before the Sister sacrifices her for her own dark ends. But the closer Lucifer gets to Gina, the closer she gets to David. And David to her. Lucifer must risk her life by confronting demons, witches, and the cruel demigoddess controlling her destiny — all to save the one girl who stands in the way of Lucifer finally finding love.
Michael Alan Nelson's comic writing includes 28 Days Later, Supergirl, Valen the Outcast, Dominion, Cthulhu Tales, Dead Run, and many others.
Hexed: The Sisters of Witchdown was published by Pyr on May 5, 2015. It is 279 pages, priced at $14.99 in trade paperback and $9.99 for the digital version. The cover is by Larry Rostant.