Future Treasures: The Hanged Man by P.N. Elrod
Future Treasures: The Hanged Man by P.N. Elrod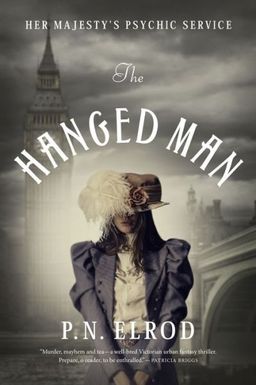 P.N. Elrod is known chiefly for her series about Chicago vampire detective Jack Fleming, whose first case is to solve his own murder. The Vampire Files ran for a dozen novels between 1990 and 2009, starting with Bloodlist.
Her new series, Her Majesty's Psychic Service, opens with The Hanged Man, a Victorian urban fantasy thriller, on sale next week.
On a freezing Christmas Eve in 1879, a forensic psychic reader is summoned from her Baker Street lodgings to the scene of a questionable death. Alexandrina Victoria Pendlebury (named after her godmother, the current Queen of England) is adamant that the death in question is a magically compromised murder and not a suicide, as the police had assumed. After the shocking revelation contained by the body in question, Alex must put her personal loss aside to uncover the deeper issues at stake, before more bodies turn up.

Turning to some choice allies — the handsome, prescient Lieutenant Brooks, the brilliant, enigmatic Lord Desmond, and her rapscallion cousin James — Alex will have to marshal all of her magical and mental acumen to save Queen and Country from a shadowy threat. Our singular heroine is caught up in this rousing gaslamp adventure of cloaked assassins, meddlesome family, and dark magic.
The Hanged Man will be published by Tor Books on May 19, 2015. It is 336 pages, priced at $24.99 in hardcover and $11.99 for the digital edition.
See our complete survey of the top releases in May here.