Vintage Treasures: Crompton Divided by Robert Sheckley
Vintage Treasures: Crompton Divided by Robert Sheckley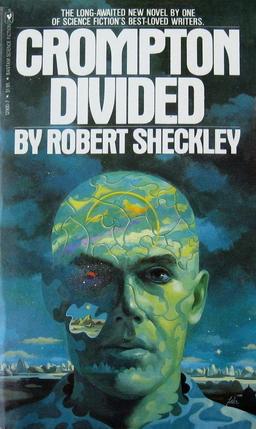 Robert Sheckley (July 16, 1928 – December 9, 2005) was primarily a science fiction writer, producing hundreds of short stories and roughly two dozen novels, including The Status Civilization (1960), The 10th Victim (1966), and Dimension of Miracles (1968). From time to time, however, he turned his hand to fantasy, as in a trio of comic fantasies written with Roger Zelazny, Bring Me the Head of Prince Charming (1991), If at Faust You Don't Succeed (1993), and A Farce to Be Reckoned With (1995).
In Crompton Divided (1978), published in the UK as The Alchemical Marriage of Alistair Crompton, Sheckley stepped into Philip K Dick territory. Alastair Crompton is diagnosed with virus schizophrenia in his youth, and two dangerous aspects of his personality are medically separated from him and allowed to grow and develop on their own: the self-indulgent Loomis, who embodies all of Crompton's lust, and the dangerously violent Stack, who got all of his rage. When he reaches adulthood the mild Crompton, despite the fact that he is repulsed by them, sets out on a Jungian quest to re-integrate his personalities and become a whole person.
The bizarre case of Alistair Crompton

He is a tortured soul. Separated at an early age from two conflicting personalities, Alistair Crompton has hatched a daring scheme to reintegrate himself. Installed in different host bodies and dispatched to distant planets, the two other Alistairs have developed lives of their own: Loomis — as grossly self-indulgent and amoral as Alistair is moderate and prim. Stack — as vicious and impulsive as Alistair is meek and cautious. What happens when the original Alistair reengages himself first with Loomis, then with Stack? Discover for yourself in this odyssey by one of the grand masters of science fiction. It's mind-bending.
Crompton Divided is an expanded version of the novella "Join Now," originally published in the December 1958 issue of Galaxy. It was published by Bantam Books in November 1979. It is 182 pages, priced at $1.95. I bought an unread copy online for about 50 cents earlier this month. The cover is by Paul Lehr.