Vintage Treasures: The Last T'En Trilogy by Cory Daniells
Vintage Treasures: The Last T'En Trilogy by Cory Daniells
Two months ago, in my March New Releases article, I said a few words about a handsome omnibus volume from best selling author Rowena Cory Daniells, The Fall of Fair Isle, published in paperback by Solaris on March 10. A complete trilogy on one volume, it collects Broken Vows, Dark Dreams, and Desperate Alliances, all originally published over a decade ago and recently republished with new cover art. Together, they form a sequel to her epic fantasy saga The Outcast Chronicles.
After that, I kinda forgot about it. Until last week, when I was sorting through some old review copies that I received in the late 90s, while I was editor of SF Site. I found the original paperback editions from Bantam Books (above, top row) and, to be blunt, it took a few days before it dawned on me that they were the same series. Where the Bantam editions were packaged as high fantasy/medieval romances, the new Solaris versions are marketed as dark fantasy — with starkly different cover design, and under a different name. It's one of the more interesting examples of a publishing make-over I've seen in a while.
[Click on the images for bigger versions.]
The Last T'En Trilogy was originally published by Bantam in Daniells' native Australia between 1999 – 2002, under the titles The Last T'En, Dark Legacy, and Warrior Code. They were reprinted here in the US in paperback by Bantam (see above), with new titles and three different cover artists:
Broken Vows (July 1999, $5.99, 357 pages, cover artist Ciruelo Cabral)
Dark Dreams (July 2001, $5.99, 435 pages, cover artist Robert Hunt)
Desperate Alliances (June 2 2002, $5.99, 421 pages; cover artist Franco Accornero)
Ciruelo Cabral's cover for Broken Vows is a moody, atmosphere piece, and Accornero's cover for Desperate Alliances is fine, if a little bland. But Robert Hunt's bodice-ripper art for Dark Dreams is so generic I can barely see it. It's hard to imagine this book being filed in the fantasy section, even by accident.
By contrast, Clint Langley's covers for the new digital versions from Solaris (above, bottom row) are all shadowed brows and snowfall, with a distinct dark-fantasy vibe. They're deliberately reminiscent of his covers for Daniells' popular Solaris series The Chronicles of King Rolen's Kin (published under the name Rowena Cory Daniells), which which began with The King's Bastard (2010), and so far has continued for four volumes.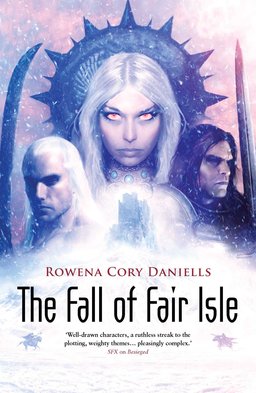 Here's the book blurb for the omnibus edition:
A three-books-in-one trilogy from best-selling author Rowena Cory Daniells

It has been six hundred years since Imoshen the First, Causare of the T'En, brought her beleaguered people across the seas to Fair Isle. The magical folk mixed with the natives, bringing culture and sophistication, and made the island one of the wealthiest, most powerful nations in the known world.

But all glory is temporary. The Ghebites, savage barbarians from the warm north, have rolled over the mainland, conquering all in their path, and now they have taken Fair Isle. Imoshen, namesake of the first Empress and the last pure-blooded T'En woman, is all that survives of that great heritage. Now, just seventeen years of age, she must offer herself to the Ghebite General, Tulkhan, and do what she can to ensure her survival, and that of her people.

One other T'En survives: Reothe, Imoshen's betrothed, newly returned from adventuring on the high seas. As the T'En warrior foments rebellion against Tulkhan in secret, Imoshen must choose, both as a woman and as a leader, between a past now lost and an uncertain future…

Featuring three-books-in-one and beautifully packaged in a stunning cover from series artist Clint Langley, The Fall of Fair Isle offers incredible value as a standalone single volume trilogy collection. Taking place six hundred years after the events of Daniells' popular The Outcast Chronicles, The Fall of Fair Isle will delight both fans of Daniells' previous titles and lovers of great epic fantasy.

Unavailable in North America for over ten years and never previously released into the UK or Europe The Fall of Fair Isle is the eagerly anticipated lost treasure in Daniells' impressive catalogue of writing, and the perfect introduction to her incredible world building for readers coming to her works for the first time.
Without reading the books, I can't tell you which covers actually suit them better. Certainly the new covers tie in with her existing (and popular) series, which makes them easier for fans to identify, a distinct plus.
The individual novels are available today at the Solaris e-book store £3.49 each.
The Fall of Fair Isle was published by Solaris on March 10, 2015. It is 848 pages, priced at $16.99 in paperback, and $9.99 for the digital edition. The cover is by Clint Langley.
See all of our recent Vintage Treasures here.