Future Treasures: The Einstein Prophecy by Robert Masello
Future Treasures: The Einstein Prophecy by Robert Masello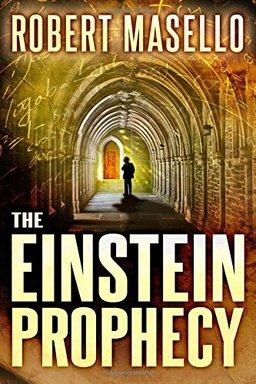 Robert Masello is the author of The Medusa Amulet, Bestiary, and other supernatural suspense thrillers… the kinds that usually involve ancient secrets, primordial supernatural powers, and monsters. They sound like the kinds of books that would make great Friday night monster movies (if they still showed monster movies on Friday night.)
His latest, The Einstein Prophecy, mixes a little WWII espionage, an Egyptian tomb, and a dire dire prophecies from Albert Einstein into the mix. It will be released in trade paperback this August.
As war rages in 1944, young army lieutenant Lucas Athan recovers a sarcophagus excavated from an Egyptian tomb. Shipped to Princeton University for study, the box contains mysteries that only Lucas, aided by brilliant archaeologist Simone Rashid, can unlock.

These mysteries may, in fact, defy — or fulfill — the dire prophecies of Albert Einstein himself.

Struggling to decipher the sarcophagus's strange contents, Lucas and Simone unwittingly release forces for both good and unmitigated evil. The fate of the world hangs not only on Professor Einstein's secret research but also on Lucas's ability to defeat an unholy adversary more powerful than anything he ever imagined.

From the mind of bestselling author and award-winning journalist Robert Masello comes a thrilling, page-turning adventure where modern science and primordial supernatural powers collide.
The Einstein Prophecy will be published by 47North on August 1, 2015. It is 336 pages, priced at $14.95 in trade paperback and $4.99 for the digital edition.