Future Treasures: The Hollow Queen by Elizabeth Haydon, Book 8 of The Symphony of Ages
Future Treasures: The Hollow Queen by Elizabeth Haydon, Book 8 of The Symphony of Ages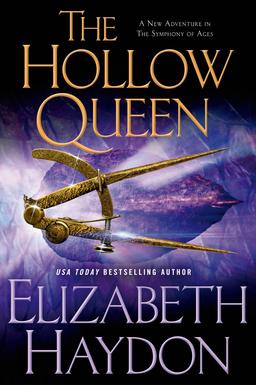 The first volume in Elizabeth Haydon's long-running fantasy series The Symphony of Ages, Rhapsody, was published by Tor Books way back in September, 1999. It was an immediate hit; Publishers Weekly called it "One of the finest high fantasy debuts in years," and the series quickly became a bestseller.
Over the next 15 years she's published seven more in the series, mostly recently The Merchant Emperor last June. On May 5th The Merchant Emperor will be reprinted in paperback, and next month Tor releases the eighth installment, The Hollow Queen.
Beset on all sides by the forces of the merchant emperor Talquist, the Cymrian Alliance finds itself in desperate straits. Rhapsody herself has joined the battle, wielding the Daystar Clarion, leaving her True Name in hiding with her infant son. Ashe tries to enlist the aid of the Sea Mages. Within their Citadel of Scholarship lies the White Ivory tower, a spire that could hold the key to unraveling the full extent of Talquist's machinations. Achmed journeys to the reportedly unassailable palace of Jierna Tal, to kill emperor Talquist–all the while knowing that even if he succeeds, it may not be enough to stop the momentum of the war.

As they struggle to untangle the web of Talquist's treachery, the leaders of the Cymrian alliance are met with obstacles at every turn. Rhapsody soon realizes that the end of this war will come at an unimaginable price: the lives of those she holds dearest.
The Hollow Queen will be published by Tor Books on June 30, 2015. It is 415 pages, priced at $25.99 in hardcover and $12.99 for the digital edition.