Amazon.com Returns to 1999 for April Fool's Day
Amazon.com Returns to 1999 for April Fool's Day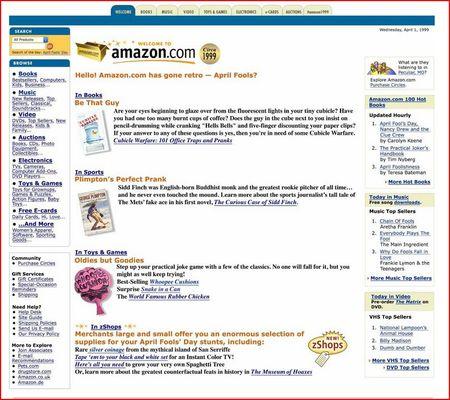 Amazon.com has turned back the clock to 1999 for April Fool's Day.
The world's largest online retailer has re-formatted its main page to precisely mirror the look and feel it had on April 1, 1999. It's not just a snapshot of the page from sixteen years ago — it has replaced everything on the page, including the links on its top Books, Music and Videos, with April Fools-themed products.
The Amazon 100 Hot Books, for example, is topped by these three titles:
April Fool's Day, Nancy Drew and the Clue Crew, by Carolyn Keene
The Practical Joker's Handbook, by Tim Nyberg
April Foolishness, by Teresa Bateman
All the titles are real. None of the links function, however (clicking anywhere on the page will dump you back to the 2015 version of the Amazon home page).
As someone who used to shop regularly at Amazon in 1999, this page really takes me back. I love the prominent link to "VHS Top Sellers" in the bottom right. All of Amazon's regular services — such as your cart, wish list, and the search functions — operate normally. It's just the main page that's been pranked.
Visit the Amazon home page here.
Presumably, Amazon's home page will return to normal by the end of the day. Click on the image at right for a screen capture of the full page.