Goth Chick News Crypt Notes: It's a Chia-Pocalypse
Goth Chick News Crypt Notes: It's a Chia-Pocalypse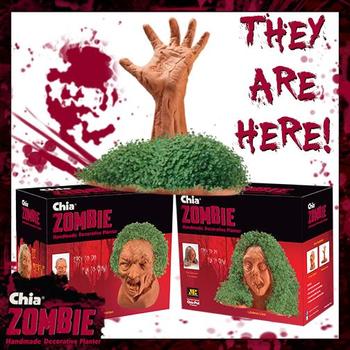 You may truly be unaware of this little tid bit, and no one would blame you if you were, but the Chia Pet has been around for almost 40 years.
Marketed by Joe Pedott's California-based company Joseph Enterprises Inc., Pedott first learned about Chia Pets when he attended a housewares show in Chicago in 1977. But it wasn't until that mind-worm of a catchphrase ("Ch-ch-ch-chia!") and the release of the ram Chia Pet in 1982 that they became little terrracotta icons.
Chia Pets have managed to survive in exactly the same way that Pet Rocks and Beenie Babies have not. Maybe part of the reason for their longevity is that Chia Pets have kept pace with pop culture, with Chias hitting the market depicting everything from Disney characters to Looney-Tunes, The Simpsons to SpongeBob and recently, Duck Dynasty and President Obama.
So I considered it complete validation of my assertion that zombies are the current "it" monster — successfully unseating angsty, flannel-wearing vampires — when a Chia Zombie arrived at my door, direct from none other than Joseph Enterprises themselves.
You won't see Chia Zombies around until fall, since Chias are traditionally only on store shelves for the holiday buying season, but I did find them on Amazon.
You can do the same if, like me, you think this is something your desk will be naked without.
And in keeping with the sense of humor that has always gone along with the whole Chia phenomenon, check out the commercial.