Belated Movie Review #1: 10,000 B.C.
Belated Movie Review #1: 10,000 B.C.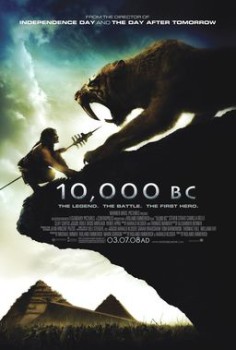 I was interested in 10,000 BC (10KBC) when it first came out, but somehow never got around to seeing it. Finally rented it. I am going to RECOMMEND it — with the caveat that if you go in with an understanding that this is a pulp fantasy lost-world adventure.
As we all surely know, some movies are good, some are bad, and some are okay but hampered by their advertising campaign (or lack thereof, in the case of John Carter). 10KBC fits in the latter category. Here's the thing. If you're going in anticipating something kinda historically accurate, like say Quest for Fire*, you'll be disappointed.
Framing is what this movie needed! It needed to start with a couple of archeologists unearthing a golden pyramid topper and their elation being clouded by the fact that it is 5,000 years older than the oldest pyramid. Dum dum duuum! Or, alternately, a 1940s guy pacing in his room next to a typewriter, wracking his brain for ideas — baby needs a new pair of shoes and all that — taking a big drink of something brown and boozy then snapping his fingers. "Ice Age Atlantean adventure!" he shouts, then starts typing.
Did I mention the Atlantean influence? See, that's what the ads should have communicated. Once you realize that the there is an Atlantean lost-world/we-are-the-gods tie-in, all is good! It's as if you've had something brown and boozy, and can thus forgive a lot in a movie. Had I been in charge of the movie, much less its advertising, I would have mentioned it waaaay earlier.
Anyway, if you want your stone-age adventures (and at HFQ we most certainly do as, exemplified by Last Free Bear and Living Totem), then 10K BC is for you!
* Yes, I realize that "Quest for Fire" isn't actually that historically accurate.
---
Adrian Simmons is an editor for Heroic Fantasy Quarterly. His last article for us was Frodo Baggins, Lady Galadriel, and the Games of the Mighty. See more of his thoughts as the HFQ Facebook page.