New Treasures: The Dark Defiles by Richard K. Morgan
New Treasures: The Dark Defiles by Richard K. Morgan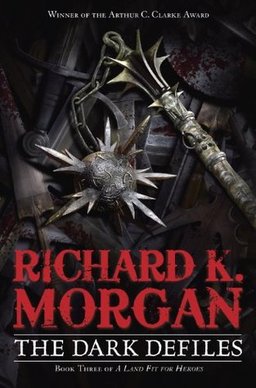 I can't read all the fantasy books out there. I can't even read all the really great stuff. Fortunately, I'm surrounded by a superb team of reviewers who keep me on top of things.
When Richard K. Morgan published his highly acclaimed first fantasy novel back in 2009, I totally missed it. But John C. Hocking didn't, and in his review in Black Gate 13 he called it:
One of the most unusual, powerful, and daring sword & sorcery novels to see print for decades… The Steel Remains follows a trio of characters, each of whom played a dramatic part in humanity's grim battle with the Scaled Folk — reptilian invaders from the sea, defeated several years past… As the three heroes are slowly drawn back together, a threat older and even more alien than the Scaled Folk moves into the world. Ringil and his friends will meet it with steel.
A sequel, The Cold Commands, followed in 2011, introducing the dark prophecy of the Illwrack Changeling, a boy raised to manhood in a ghostly between-world realm, whose return would be catastrophic for the fragile land. And late last year the final novel in what's now being called a trilogy finally arrived. As the world teeters towards another war with the dragon folk, Ringil and his companions find the prophecy of a dark lord may be coming true very close to home.
Here's the publisher's description for The Dark Defiles, the closing volume of Land Fit for Heroes.
Ringil Eskiath, a reluctant hero viewed as a corrupt degenerate by the very people who demand his help, has traveled far in search of the Illwrack Changeling, a deathless human sorcerer-warrior raised by the bloodthirsty Aldrain, former rulers of the world. Separated from his companions — Egar the Dragonbane and Archeth — Ringil risks his soul to master a deadly magic that alone can challenge the might of the Changeling. While Archeth and the Dragonbane embark on a trail of blood and tears that ends up exposing long-buried secrets, Ringil finds himself tested as never before, with his life and all existence hanging in the balance.
The Dark Defiles was published by Del Rey Books on October 7, 2014. It is 656 pages, priced at $18 in trade paperback and $9.99 for the digital edition. The cover is by Stephen Youll.
See all of our recent New Treasures here.