A Fond Farewell to Stephen Colbert and Craig Ferguson, Fellow Fantasy Aficionados
A Fond Farewell to Stephen Colbert and Craig Ferguson, Fellow Fantasy Aficionados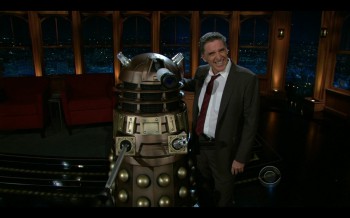 "We're all mad here. I'm mad. You're mad… You must be, or you wouldn't have come here." — The Cheshire Cat
This past week marked the end of two of the most original TV programs of the last decade: The Colbert Report (2005-2014) and The Late Late Show with Craig Ferguson (2005-2014).
They challenged conventions, shook up the status quo, thumbed their noses at Big Brothers both political and corporate — all while wearing a healthy Cheshire Cat grin. I also want to thank them for not shying away from sharing their love for the genres of wonder.
We wish to bid them a fond farewell, but since we here at Black Gate are focused on fantasy and speculative fiction, I won't pay tribute to all the ways Stephen Colbert and Craig Ferguson were innovative, iconoclastic, and unique in the realm of late-night talk shows. There is plenty of that going around. Instead, I'll just note how both hosts shared an appreciation for fantasy and science fiction.
Ferguson first. He took the late-night talk show format and deconstructed it, creating a sort of parody of the genre in a way similar to how Pee Wee Herman created a parody of a manic children's variety show. To lampoon the obligatory sidekick, he brought in Geoff Peterson, a talking robot skeleton. Geoff made such a funny sidekick, in fact, that the one-off joke became a staple of the show.
Ferguson, that Scottish raconteur, is an avowed and devoted Whovian. For most of the show's run, sitting on his desk next to his rattlesnake drink mug could be seen a scale model replica of the TARDIS (just like the one I got from my wife last Christmas!). When asked by guests about it, he unabashedly declared his love for the Time Lord.
Stephen Colbert, though… Black Gate readers, I can confidently say that he is one of us…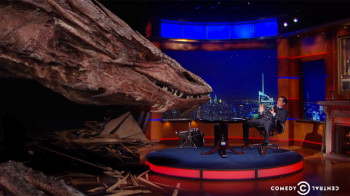 Colbert's allusions over the years that ranged from classics of fantasy to modern superhero comics revealed his familiarity with and affinity for speculative fiction. An amateur Tolkien scholar, he even provided some unofficial consultation to Peter Jackson on the Hobbit films. His friendship with the director culminated in him being given a cameo role in The Hobbit: The Desolation of Smaug (he plays a Laketown spy).
When the first Hobbit film was released, The Colbert Report had guests from the film for an entire week, including Ian McKellan and Jackson. And during the final two weeks of his show, Colbert scored an amazing interview with the dragon Smaug himself — a brilliant bit of television in which, thanks to clever CGI, the Great Wyrm destroyed much of the set showing up for the Q&A.
They'll be missed on late night. But, you know, I wouldn't be surprised if I bumped into one of them at a convention. They would be right at home.