New Treasures: Suspicion by Alexandra Monir
New Treasures: Suspicion by Alexandra Monir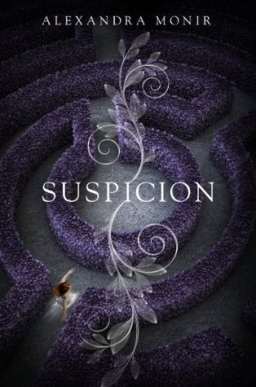 Every reader has a guilty pleasure. I know people who secretly read Warhammer 40K novels on their lunch hours. Not me — those books are great, and I read them proudly. (Except for Graham McNeill's A Thousand Sons, which made me cry. I read that stupid thing three times, and I hate it every time. Magnus the Red, you're a big doofus.)
No, my guilty pleasure is supernatural romances. It used to be easier to get away with the occasional peek, until my daughter caught me stealing her books and gave me that Dad, you're being weird look. But honey, I just read them for the articles.
I knew Suspicion was going to be hard to resist the moment Taylor brought it home. I love books with creepy mazes. Plus Jessica Brody described the book as "If Alfred Hitchcock had directed Downton Abbey," which, let's face it, doesn't make matters any easier. The killing blow was Amy Plum's blurb on the back cover: "Take The Princess Diaries and add magic, murder, and mystery and you've got Suspicion." Aaargh. I love all those things. Now I'm secretly reading it late at night, and I hope no one sees me.
"There's something hidden in the maze."

Seventeen-year-old Imogen Rockford has never forgotten the last words her father said to her, before the blazing fire that consumed him, her mother, and the gardens of her family's English country manor.

For seven years, images of her parents' death have haunted Imogen's dreams. In an effort to escape the past, she leaves Rockford Manor and moves to New York City with her new guardians. But some attachments prove impossible to shake — including her love for her handsome neighbor Sebastian Stanhope. Then a life-altering letter arrives that forces Imogen to return to the manor in England, where she quickly learns that dark secrets lurk behind Rockford's aristocratic exterior. At their center is Imogen herself — and Sebastian, the boy she never stopped loving.

Combining spine-tingling mystery, romance, and unforgettable characters, Suspicion is an action-packed thrill ride.
Suspicion was published on December 9 by Delacorte Press. It is 295 pages, priced at $17.99 in hardcover and $11.99 for the digital version. The cover was designed by Alison Impey.