New Treasures: The Dream-Quest of Unknown Kadath by H. P. Lovecraft and I. N. J. Culbard
New Treasures: The Dream-Quest of Unknown Kadath by H. P. Lovecraft and I. N. J. Culbard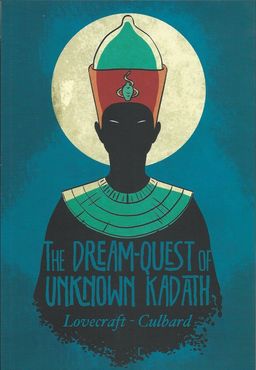 In January of this year, I reviewed I.N.J. Culbard's graphic novel adaptation of H.P. Lovecraft's At The Mountains of Madness. And I loved it.
Since then, Culbard has produced several additional Lovecraft volumes, including comic adaptations of The Case of Charles Dexter Ward and The Shadow Out of Time. And while I was at my local comic shop on Saturday, buying D&D dice for my kids, I spotted another one in the new arrivals rack: The Dream-Quest of Unknown Kadath, a thick 144-page adaption of one of H.P. Lovecraft's lesser-known fantasies.
Three times Randolph Carter dreamed of the marvelous city, and three times was he snatched away while still he paused on the high terrace above it." Randolph Carter embarks on an epic quest across a world beyond the wall of sleep, in search of an opulent and mysterious sunset city. When he prays to the gods of dream to reveal the whereabouts of this magical city, they do not answer, and his dreams stop altogether. Undaunted, Carter resolves to go to Kadath, where the gods live, and beseech them in person. However, no one has ever been to Kadath, and no one even knows how to get there — but that won't stop Randolph Carter from trying.
While The Dream-Quest of Unknown Kadath is not as celebrated as some of Lovecraft's more famous work, it is highly regarded by many of his most dedicated fans. It's also received several high-profile graphics adaptions in the last few years, including a gorgeous hardcover edition from P.S. Publishing (part of their new Pulps Library), and a Kickstarter-funded graphic novel from artist Jason Bradley Thompson. (And if you insist on going old school, of course, there'a also the Ballantine Adult Fantasy paperback.)
The Dream-Quest of Unknown Kadath was published by SelfMadeHero on November 18, 2014. It is 144 pages, priced at $19.95. There is no digital edition.