2014 World Fantasy Convention: Saturday Wrap-Up
2014 World Fantasy Convention: Saturday Wrap-Up
This will be our final post about the World Fantasy Convention in 2014. Tomorrow, we will be leaving early to drive back to Indianapolis.
Today, I slept in a bit more and didn't join the convention activities until 11. I attended readings by Joe Haldeman, Kelly Link, Mary Robinette Kowal (my close friend), and Lee Martindale.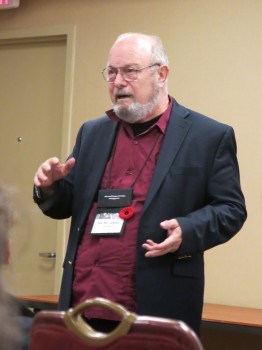 Joe Haldeman
[Click on any of the images for bigger versions.]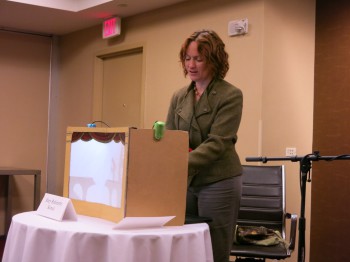 Mary Robinette Kowal Puppet Show
There were also several interesting panels I listened to: The Great Game in History and Fiction, The History of Whispers Magazine (which was actually a disguise for roasting Stuart David Schiff), The Myriad Faces of Dragons, and Portraying War in Fantasy.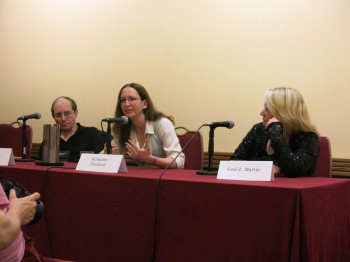 Moshe Feder, Summer Handford, and Gail Z. Martin
I stopped by the dealer room today and purchased an issue of Galaxy signed by Larry Niven. And then Bess found someone selling copies of Unknown. Most were well out of my price range, but I did purchase two issues: one with cover art that included a story by H.L. Gold and another without cover art that included a story by Theodore Sturgeon.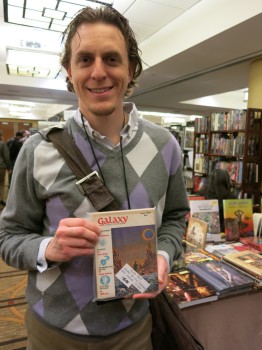 We had a wonderful dinner of Indian food with John O'Neill and Sarah Avery. Afterward, we took an adventurous (yet far shorter) path back to the hotel. That might conjure thoughts of the dark tunnels of Moria, but in reality, it was more about ducking under (or climbing over) warning tape and stepping through mud.
Later, when all else was finished, we returned to the hospitality suite for drinks and conversation. In fact, they still had single-malt scotch. And now my weary mind needs rest before we begin the long journey home.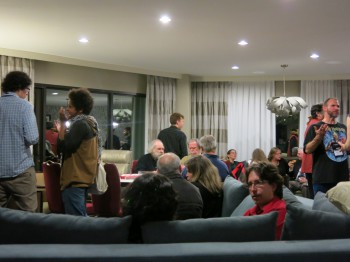 If you have the chance to attend WFC some time, please do so. It is a wonderful convention full of personable people who enjoy discussing fiction and art, from the standpoint of appreciating it and creating it. And if you introduce yourself to me in an elevator, you can join my list of close friends.
Bess > Mary Robinette Kowal is very animated. I enjoyed her use of accents. She performed a classic rendition of a shadow puppet show that was very enjoyable.  I was very intrigued by her in-progress work that she read. She came bearing gifts; I like my sandalwood fan.
I had met Lee Martindale on a previous occasion. I continue to find her fascinating. I loved the way she read her story as much as the story itself. In fact, when she was unable to finish the story due to time constraints, I purchased the anthology on the spot so that I could finish the story on my own.
I was privileged to have dinner with the legendary John O'Neill. He introduced me to Indian food and the importance of shrink wrapping. Sarah is exceptionally pleasant company.
As a tag-along who isn't heavily vested in fantasy, I didn't know what to expect at this convention. I was pleasantly surprised by how engaging I found most of the panels.  While the topics weren't ones I'd normally delve into, the panelists excelled in witty and thought-provoking discussions that offered new perspectives. I particularly enjoyed the readings we attended. The social atmosphere was welcoming. The experience did confirm my suspicions that writers are peculiar individuals, but they are individuals that I rather enjoy being around.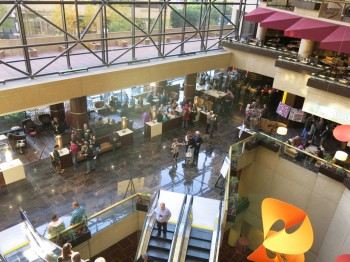 ---
See Matthew's Friday report on the World Fantasy Convention here.