Michael Bishop on Tom Hanks' Story in The New Yorker
Michael Bishop on Tom Hanks' Story in The New Yorker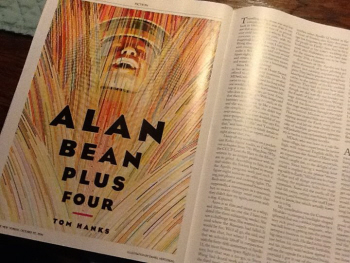 Michael Bishop, Nebula Award-winning author of No Enemy But Time, Ancient of Days, and Philip K Dick Is Dead, Alas, has posted a brief review of Tom Hanks science fiction story in The New Yorker magazine.
Yes, Tom Hanks has a story in The New Yorker. And yes, it's science fiction. It's titled "Alan Bean Plus Four." Yes, the Tom Hanks who played Forrest Gump and Captain Phillips. Look, just read what Michael said.
I read it with some initial skepticism. Sure, Hanks is an Academy Award-winning actor, but can he write?

Well, yes, he can. This tale works at the level that Hanks shoots for, and the prose, pointedly colloquial and science-savvy, shows him to have a fine command of 21st-century English as well as of current cultural, social, and technological innovations. I really like it.
You can read the complete story online here. There's even an audio version on the same page (read by Tom Hanks. How cool is that?).
Read Michael Bishop's complete comments on his Facebook page.