Future Treasures: Touch of Evil by C.T. Adams and Cathy Clamp
Future Treasures: Touch of Evil by C.T. Adams and Cathy Clamp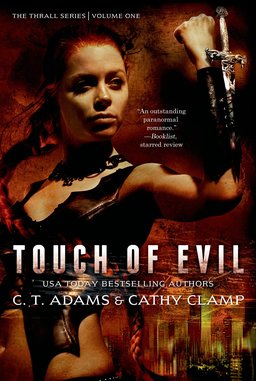 I don't read much urban fantasy, and I think that's a serious oversight. I love dark fantasy, and I love adventure fantasy, and both of those are found in abundance in the best urban fantasy on the market. I just need to be selective.
Maybe I can look to the market for help. Later this month, Tor will offer a handsome trade paperback reprint of the first volume of the popular Thrall Series by C.T. Adams and Cathy Clamp, Touch of Evil (originally released in paperback in 2006), and it looks like the kind of dark and creepy urban fantasy I would enjoy. Worth checking out, I think.
When the Thrall Queen Wants You… Run!

In the ER after a minor traffic accident, Kate Reilly s attacked by Monica Micah, the Queen of Denver, Colorado's Thrall population, The Thrall — vampire parasites — have been preying on humans for thousands of years, using us as both hosts and food. Kate killed a Thrall Queen and became Not Prey, so by the Thrall's own rules, Monica should be giving Kate a wide berth.

Instead, Monica wants Kate dead. Eventually. First, she wants to force her to become the things she hates most in the world: a new Thrall Queen. Worse, though Monica broke the rules,, Kate can't: of she hides or flees. she'll lost Not Prey status.

Not that Kate thinks seriously about running away. Too many people rely on her in one way or another: the tenants in the apartment building she owns; her brothers, her ex-boyfriend and his seriously unpleasant wife; a missing sixteen-year-old girl Kate has promised to find before the Thrall do, and Tom, the handsome werewolf who just moved in downstairs.

No. Kate's not going anywhere. Kate Reilly is Not Prey. She's going to fight.
Touch of Evil was originally published in paperback in 2006, and reprinted in 2009. It was followed by two sequels: Touch of Madness (2007) and Touch of Darkness (2008). Touch of Evil will be published in trade paperback on October 14. It is 352 pages, priced at $14.99 in trade paperback and $7.99 for the digital edition.