New Treasures: Sojourn: An Anthology of Speculative Fiction, edited by Laura K. Anderson and Ryan J. McDaniel
New Treasures: Sojourn: An Anthology of Speculative Fiction, edited by Laura K. Anderson and Ryan J. McDaniel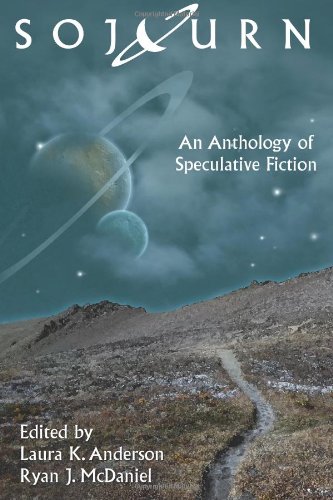 Where have all the excellent small press anthologies gone? Wait, here they are. Right in front of me.
Sojourn: An Anthology of Speculative Fiction looks like a splendid example. It's edited by Laura K. Anderson (The Chronicles of Baxarlian) and newcomer Ryan J. McDaniel, and is available in both print and digital editions. It includes enticing new fiction from a delightful assortment of new and established names, including Matt Forbeck (Blood Bowl), James Lowder (Prince of Lies, Knight of the Black Rose), Elizabeth Roper, Wayne Cole, Hans Cummings, Dan Repperger, and many others.
The moon's rings illuminate the desert path before you. Up ahead a ridge rises, obscuring the horizon. You cannot go back. There is nothing to go back to. A hundred worlds lie behind you and a thousand more lie ahead. You smell smoke in the air and hear a hint of music somewhere far away. One foot after another, you head toward the horizon, beckoned by the mystery of what lies beyond.

The fifteen stories in this collection portray remarkable worlds for you to visit. These are worlds unlike our own — worlds where a pastor attends the 68th Periodic Interspecies Theologians' Conference; worlds where a boy goes on a spiritual journey in the mists of prehistory; worlds where humans are enslaved and one freed woman will do whatever it takes to save her species; worlds where humans, zombies, and vampires rub elbows in the office. We invite you on your own journey in the pages of Sojourn: An Anthology of Speculative Fiction, penned by the talented storytellers of the Fear the Boot podcast community. Some of these worlds will feel familiar, some will feel alien, and a few may entice you to sojourn just a bit longer.
Sojourn: An Anthology of Speculative Fiction was published by Fear the Boot on February 15, 2014. It is 302 pages, priced at $14.99 in trade paperback and $9.99 for the digital edition. Check it out.