Future Treasures: Sword of the Bright Lady by M.C. Planck
Future Treasures: Sword of the Bright Lady by M.C. Planck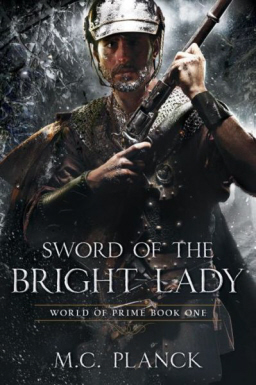 M.C. Planck is the author of The Kassa Gambit, an SF novel released in hardcover by Tor last year. For his second novel, he turns to fantasy, with the tale of a mechanical engineer transported to a world in midst of an eternal war.
Christopher Sinclair goes out for a walk on a mild Arizona evening and never comes back. He stumbles into a freezing winter under an impossible night sky, where magic is real — but bought at a terrible price.

A misplaced act of decency lands him in a brawl with an arrogant nobleman and puts him under a death sentence. In desperation he agrees to be drafted into an eternal war, serving as a priest of the Bright Lady, Goddess of Healing. But when Marcius, god of war, offers the only hope of a way home to his wife, Christopher pledges to him instead, plunging the church into turmoil and setting him on a path of violence and notoriety.

To win enough power to open a path home, this mild-mannered mechanical engineer must survive duelists, assassins, and the never-ending threat of monsters, with only his makeshift technology to compete with swords and magic.

But the gods and demons have other plans. Christopher's fate will save the world… or destroy it.
Sword of the Bright Lady is the first novel of World of Prime. The conceit of a contemporary hero transported into a fantasy world isn't used as much as it used to be — obvious examples are John Carter of Mars, The Chronicles of Thomas Covenant, and Joel Rosenberg's Guardians of the Flame novels — but I still find it an interesting one.
Sword of the Bright Lady will be published by Pyr Books on September 9, 2014. It is 440 pages, priced at $18 in trade paperback and $11.99 for the digital edition.