Evidence of a Higher Power at Work: Pacific Rim 2 Gets a 2017 Release Date
Evidence of a Higher Power at Work: Pacific Rim 2 Gets a 2017 Release Date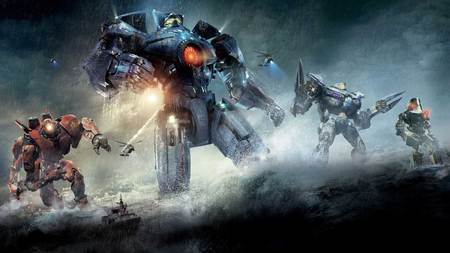 Philosophers and scientists search for God using logic and telescopes, while evidence of the divine at work in their daily lives escapes them. Me, I look for God in the Hollywood press. Certainly no truly loving deity would allow Pacific Rim, the best film of 2013, to wither away without a sequel.
And lo is my diligence and faith rewarded. BuzzFeed reports this morning that Pacific Rim 2 will arrive in theaters April 7, 2017. Here's Director Guillermo del Toro:
The characters I love will return… Raleigh, Mako, Newt, Gottlieb and who knows, maybe even Hannibal Chau – but we are taking them into a fresh territory that will display amazing sights and battles. The first film set the stage and now we're ready to have a blast.
Del Toro is currently wrapping up production on Crimson Peak and his upcoming TV series The Strain. Box Office Mojo reports the first Pacific Rim earned over $411 million (against a budget of $190 million), by far the biggest hit of Del Toro's career, but a sequel was by no means a sure thing — especially considering the relatively anemic domestic box office ($101 million.)
This is the best news of the week — especially for my son Drew, who's a huge Pacific Rim fan. If you haven't seen the first film yet, I urge you to get the Blu Ray edition, cook up a big bucket of popcorn, and settle in for a joyous two hours of giant-robot-versus-mega-monster mayhem. (And be sure to turn the speakers WAY UP.) Read Ryan Harvey's deliriously happy Black Gate review "Pacific Rim Loves You. Love It Back" here, and the complete BuzzFeed article here. (Thanks to Tor.com for the tip!)