Michaele Jordan Reviews Pantheon
Michaele Jordan Reviews Pantheon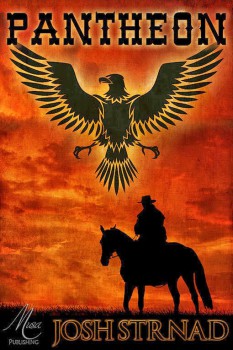 Pantheon
Josh Strnad
Urania Speculative Fiction, an imprint of Musa Publishing, Colorado Springs, CO (180 pp in Adobe pdf format, $4.99, Kindle edition, April 2014)
Reviewed by Michaele Jordan
Josh Strnad does not look like a horror writer. He's not dark and brooding, or dressed in black leather. Rather, he's young and blond, fresh faced and apple-cheeked. He looks like he just came straight from a Wisconsin dairy farm. (And for all I know, he did.) Yet he writes horror. It says so right there on his website.
You probably didn't need me to tell you that. Quite likely you've caught one of his stories. He first came to my attention with 'Hellevator,' in Eric J. Guignard's 2013 collection, After Death… An Anthology of Dark and Speculative Fiction Stories Examining What May Occur After We Die. But you may prefer 'If You Should Die Before I Wake' which appeared Nightmare Stalkers & Dream Walkers from Horrified Press, also in 2013.
He has not slacked off with the new year. His H.P. Lovecraft tribute, "Goddess of Our Fathers," is featured in the new Dark Hall Press Cosmic Horror Anthology. And his latest story 'The Last Kiss" (he tells us this is unlike anything else he's ever written) will soon be available in Vignettes From The End Of The World.
In short, he's written a lot of good stories. Which means it's time for a novel. So. . . here it is! Pantheon is not, strictly speaking, horror, although it has its horrific moments. It's more a cross-genre work, merging Greek mythology with the old West. Of course, Greek mythology may not count as a genre, but no matter. This isn't the same Greek mythology you got from Edith Hamilton in school.
Mr. Strnad is clearly very interested in religion. What are the commonalities between faiths? What does religion offer that makes it adherents so devoted? How has it survived millennia of rationalist thought? In Pantheon, he blends Greek imagery into Judaeo-Christian themes to produce a surprisingly satisfactory synthesis.
The book opens with Lamont Price and Lamont Price is afraid. He was a bold child once, but the past has taught him fear. Emma Sutter has always been afraid and is now determined to learn courage. We are not told at first what they are running from. It is sufficient that they both need desperately to leave the past behind them.
They have no idea where they are going — but it wouldn't have mattered if they did. They are caught up in divine machinations and re-directed, whether they like it or not. No one says 'No' to a god. You could call them pawns or you could call them heroes, but either way their lives are no longer their own, if they ever were. Their fate was decreed before they ever reached this particular cross-roads.
The past is inescapable. As the story progresses, we learn more of what drove Lamont and Emma to this point and how their failures and weaknesses are the source of the strength they must summon to face a supernatural challenge. And the supernatural challenge is an exciting one. When gods clash, they do it in grandiose style.
Mr. Strnad paints in broad strokes and primary colors. Perhaps one of the reasons he selected the Old West as his venue was the moral clarity we used to see in movies where the villains wore black hats and the sheriff wore white. Here, he presents characters who must commit to good or evil within a world where those choices are clear but costly. It is a choice that we have all confronted.
---
Michaele Jordan is the author of Mirror Maze, brought to you by Pyr, and has placed stories in Redstone Science Fiction, Buzzy Mag, and The Magazine of Fantasy and Science Fiction. You can find her posts on SF Signal or anywhere else that will print her fevered musings. She welcomes new friends on Facebook — as long as you don't expect prompt replies — and invites you to visit her website, www.michaelejordan.com. But be sure to spell her first name correctly or you'll end up looking at basketball pictures.