Michaele Jordan Reviews Pantheon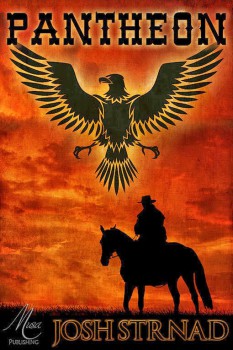 Pantheon
Josh Strnad
Urania Speculative Fiction, an imprint of Musa Publishing, Colorado Springs, CO (180 pp in Adobe pdf format, $4.99, Kindle edition, April 2014)
Reviewed by Michaele Jordan
Josh Strnad does not look like a horror writer. He's not dark and brooding, or dressed in black leather. Rather, he's young and blond, fresh faced and apple-cheeked. He looks like he just came straight from a Wisconsin dairy farm. (And for all I know, he did.) Yet he writes horror. It says so right there on his website.
You probably didn't need me to tell you that. Quite likely you've caught one of his stories. He first came to my attention with 'Hellevator,' in Eric J. Guignard's 2013 collection, After Death… An Anthology of Dark and Speculative Fiction Stories Examining What May Occur After We Die. But you may prefer 'If You Should Die Before I Wake' which appeared Nightmare Stalkers & Dream Walkers from Horrified Press, also in 2013.
He has not slacked off with the new year. His H.P. Lovecraft tribute, "Goddess of Our Fathers," is featured in the new Dark Hall Press Cosmic Horror Anthology. And his latest story 'The Last Kiss" (he tells us this is unlike anything else he's ever written) will soon be available in Vignettes From The End Of The World.
In short, he's written a lot of good stories. Which means it's time for a novel. So. . . here it is! Pantheon is not, strictly speaking, horror, although it has its horrific moments. It's more a cross-genre work, merging Greek mythology with the old West. Of course, Greek mythology may not count as a genre, but no matter. This isn't the same Greek mythology you got from Edith Hamilton in school.