Open to Chance
Open to Chance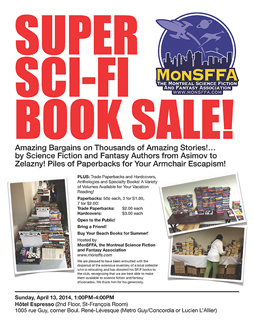 Leaving the dark brick stairwells of the Lucien L'Allier métro last Sunday morning at 10, we found the rain was holding off: something not to be expected. Forecasts called for meteorological chaos in Montréal over the following days. Up to 24 degrees celsius, down to 2, thunderstorms, snow. But that was in the future. For the moment, Grace and I were looking for books to hold us through those unsettled days and more.
Not that we were lacking for books to read, truly. But the point of a used-book sale isn't just to buy a title you could (if you don't mind cheating) get from Amazon or Abebooks. It's to find something you didn't know you want, or something you never thought you'd find, at a price you can't believe; to get a chance at something that happens to come around just at that moment. To be in the right place at the right time.
It had already been a busy weekend. I'd been to two book sales over the previous two days, with my girlfriend Grace joining me at the last one. I'd found some nice titles (Carter's Nights at the Circus, the Strugatskys' Roadside Picnic, Danielewski's Only Revolutions, many more), but nothing too surprising. Both those sales were the most recent iteration of annual events, so we knew what to expect of them going in. The one we were approaching now, at the Hotel Espresso on Rue Guy, was more of a mystery. MonSFFA, the Montréal Science Fiction and Fantasy Association, was holding what they promised would be a massive sale of sf and fantasy books. The books came from a fan who had to liquidate his collection and officially the sale started at 1; but I'd seen an appeal on Facebook for volunteers to come in early to help set up in exchange for first crack at the stock, so Grace and I had decided to lend a hand. We had no idea what kind of collection this was or what we'd find.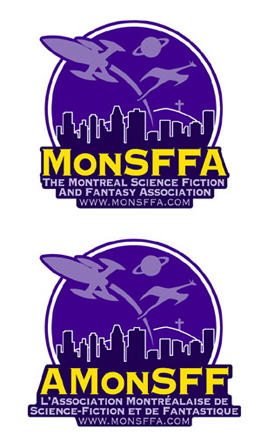 I'm not much of a joiner and Grace has been occupied in other groups (like Montréal's local SCA branch), so neither of us had ever signed on with MonSFFA. I knew it was a longstanding group of fans that used to put on a local English-language convention, called Con*Cept, which had lately folded; plans for a replacement con had been slow to get off the ground for a number of reasons, but MonSFFA still held regular afternoon-long meetings at Hotel Espresso, the old Con*Cept site, and this month the meeting would be preceded by what they were calling their "Super Sci-Fi Book Sale." I wondered if we'd see people we knew. Montréal's English-language community is surprisingly small, and the sf fan subculture within that community is accordingly tiny.
As it turned out, the three or four people present at the hotel when we showed up were new to us, though among the next to arrive were some faces we remembered from Con*Cept and other conventions. The sale room was a sort of L-shape, with the long side much wider than the shorter, making for a sort of abbreviated entryway to a larger rectangular space. Long white tables were set around all the walls, waiting for books. We introduced ourselves and talked about MonSFFA as the club regulars decorated one of the walls with sheets of club information and the sort of gags beloved of sf fans: printouts of web comics, a mock poster for Alien as a romantic comedy. Then the books arrived.
I'm not sure I'd ever helped set up a book sale before. I soon found that the difficulty wasn't so much the simple unloading of the books as the arranging in alphabetical order. Even something as relatively simple as 'first letter of author's last name' meant working out how much space to allot for each letter. Sections K through N soon grew crowded, even with a separate space for 'Mc's. Problems found solutions: we put books by particularly well-represented authors in boxes of their own under the tables. The anthologies shifted places a couple of times. So did the tie-in novel section, which grew to immense proportions.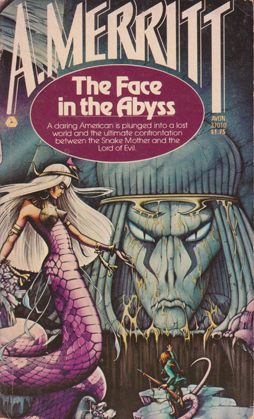 Sorting and organising, I kept an eye out for interesting titles. But I was oddly reluctant to set books aside early on, a hesitation that cost me titles by Tanith Lee and Lucius Shepard. It was foolish, I suppose, in that the books were there to be sold one way or another. And yet it seemed somehow unfair. At any rate, my worries about taking excessive advantage of my volunteer status evaporated as the books kept rolling in: anything I could do to clear space was needed.
A kind of camaraderie developed as the sale got more and more organised. The workers developed an institutional knowledge — knowing which authors were going into boxes of their own, and just where those anthology titles had ended up. It was a laid-back, but still fairly serious, atmosphere: the work got done, but there was pleasure in it. If you loved books and loved science fiction, you were in the right place. There was something calming, I thought, about being surrounded by so many books. Something promising, as in the nature of any book sale — if this title isn't what you want, or this one, still there are many more to look through. The more hits you get, the more likely it seems that there are more to find. And I was finding books I wanted almost from the start: Delany's Flight from Nevèrÿon, Merritt's The Face in the Abyss.
I felt like I was getting to know the collector whose books formed the core of the sale, as though I had some virtual nonspecific knowledge of the man through his books: an illusion, but a persistent one. The titles were split about equally between science fiction and fantasy, though there were relatively few fat fantasies. There weren't many books from the past few years — no Iain M. Banks that I saw, for example — or from before about 1960, but there were reprints and collections from the golden age. Novels predominated, but short fiction collections were perhaps more common than in most sales, with comparatively little non-fiction. There were a fair number of pulp wordsmiths, but also 'literary' writers published within genre. Many titles by famous authors (Asimov, Clarke, and Heinlein, for example), and some less-well-known writers also well-represented (Gordon R. Dickson had a box to himelf, and C.J. Cherryh had her own section as well).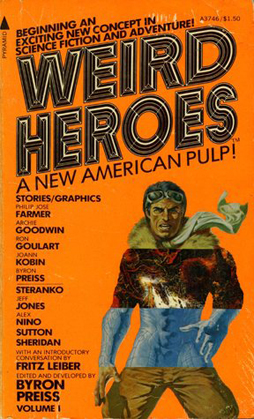 The media tie-in collection was massive. Most of that was Star Trek and Star Wars novels, some old enough and perhaps rare enough to be of interest — Grace found the Star Trek novel based on an unproduced story by Theodore Sturgeon, while I was surprised to learn that back in the early nineties, there'd been novels published based on the Bard's Tale video games. There were some roleplaying books — I saw a World of Darkness novel titled Such Pain, and, acknowleding the foresightful meme-readiness of a book published in 1995, could think only "Such pain. So vampire. Wow." — and a spoken-word LP.
And some books that I suspect I'd seen before. When author Claude Lalumière moved out of town a couple years ago, he sold off much of his massive collection of books and I saw a set of Byron Preiss's Weird Heroes series from the 1970s that I thought might have been his. Books circulate, sometimes. (At the moment, those books have circulated all the way to my apartment.) Then, at about noon, as things were beginning to seem all straightened out, a new wrinkle: another sf collector had shown up with a dozen boxes of books of his own. He was from a few provinces over, and was hoping to dump his boxes into the sale — but was there space? He was leaving early in the afternoon, so he woldn't be able to pick up the books at the end of the day. Something was arranged, he started bringing boxes up, we set the books spine-out in other boxes around and beneath the still-full tables: it all, in the end, fit together.
Somewhere among all this activity, one of the MonSFFA heads announced the opening of the sale. There wasn't much of an immediate difference in the room: regular paying customers had already been drifting in. The atmosphere continued to be a little more communal, more collegial, than most book sales. MonSFFA members were calling out the names of notable authors, directing customers to caches of titles. One man drew the room's attention to several Ballantyne 'Best Of' single-author collections: The Best of Edmond Hamilton, The Best of Jack Williamson, The Best of Cordwainer Smith. I grabbed some myself: The Best of Leigh Brackett, The Best of Philip K. Dick, as well as a copy of The Best Science Fiction of J.G. Ballard. Jokes were being thrown around — somebody announced there were two boxes of books by Piers Anthony under one of the tables, somebody else called out that was where they should stay. The discovery of some Gor books led to a discussion of "Houseplants of Gor." Someone played a few seconds of the fight music from the original Trek episode "Amok Time:" "That's what you play when three people go for the same book," somebody else suggested.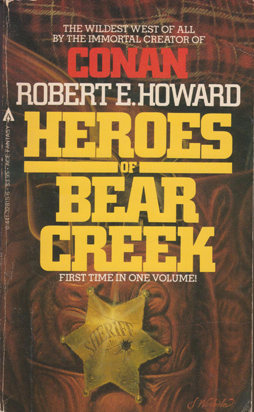 Paperbacks were going for 50 cents, or three for a dollar or seven for two dollars; trade paperbacks were two dollars and hardcovers three. Or you could fill a box for ten dollars. Grace and I bought two boxes, and for twenty dollars she got 21 books, including the only Robert Heinlein collection she was missing (Assignment in Eternity), and I got 77. Among that haul were John M. Ford's Princes of the Air, the Harlan Ellison–edited Medea, and Joy Chant's The Grey Mane of Morning. Also two collections of Robert E. Howard's non-fantasy stories, Heroes of Bear Creek and The Iron Man. And the five paperbacks of Karl Edward Wagner's Kane stories.
So we paid and went off to catch a showing of Captain America: The Winter Soldier. It had been a good day. We'd got a lot of books and touched base with some rarely-seen acquaintances: we learned that Montréal's Fringe Festival this year will boast an adaptation of a Spider Robinson short story, "God is an Iron." (The production will be filmed, so you should be able to order a copy.) When we left, there were still a lot of books left and the organisers were talking about having another sale in September. That'll be something to keep an eye out for. All told, this had been one of the best book sales I'd been to; there'd been sales where I'd bought more books, but perhaps none where I'd found more titles that I was looking for. Which is surprising: I don't think of myself as a science fiction or fantasy 'fan,' just as a reader who enjoys those genres among others. But you never know what you'll find at a book sale or what sale will turn out to have what you want. All you can do is open yourself up to chance.
---
Matthew David Surridge is the author of "The Word of Azrael," from Black Gate 14. His ongoing web serial is The Fell Gard Codices. You can find him on Facebook, or follow his Twitter account, Fell_Gard.