New Treasures: The Ghost Hunters by Neil Spring
New Treasures: The Ghost Hunters by Neil Spring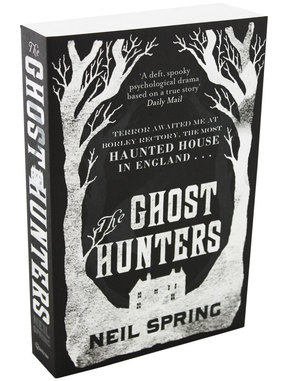 Ah, I love a good spooky story. And I love 1920s British mysteries. So… a 1920s British mystery/ghost story? What's not to love?
The Ghost Hunters is Neil Spring's first novel. I stumbled on it while shopping for discount books at Amazon.com; proof that online browsing can be just as effective as bookstore browsing to discover books from unknown authors. For those of us with poor impulse control, anyway.
Welcome to Borley Rectory, the most haunted house in England.

The year is 1926 and Sarah Grey has landed herself an unlikely new job – personal assistant to Harry Price, London's most infamous ghost hunter. Equal parts brilliant and charming, neurotic and manipulative, Harry has devoted his life to exposing the truth behind England's many 'false hauntings', and never has he left a case unsolved, nor a fraud unexposed.

So when Harry and Sarah are invited to Borley Rectory – a house so haunted objects frequently fly through the air unbidden, and locals avoid the grounds for fear of facing the spectral nun that walks there – they're sure that this case will be just like any other. But when night falls and still no artifice can be found, the ghost hunters are forced to confront an uncomfortable truth: the ghost of Borley Rectory may be real and, if so, they're about to make its most intimate acquaintance.
The Ghost Hunters was published in the UK by Quercus in October, 2013. It is 522 pages, priced at £7.99, or £5.99 for the digital edition. There is no American edition planned, far as I know. I bought my copy through a UK book dealer on Amazon.com for $8.90, plus $3.99 shipping.