Goth Chick News: My Halloween & Attractions Show 10th Anniversary
Goth Chick News: My Halloween & Attractions Show 10th Anniversary

That headline alone probably qualifies me for Black Gate's employee assistance program – the one where you sit in a calming space and talk about your feelings with no co-pay.
Unbelievable as it may sound, at least to me, I have been dragging around the Midwest for 10 years chasing one of the largest collections of disturbing paraphernalia to be bought and sold under one roof.
Yes, it's time once again for Transworld's annual bacchanalia – The Halloween and Attractions Show – and the official kick off of Goth Chick News' "season."  This is the show's 19th year and it is officially the largest of its kind in the world focused on the haunt industry, packing over 300 exhibitors into the America's Convention Center in St. Louis, MO.
If you ever wondered where all the "professional" haunted attractions get their gear, well now you know.  From The Travel Channel's top picks to Universal Studio's Halloween Horror Nights, all those realistically gross props and blood-soaked latex 'appliances' have to come from somewhere.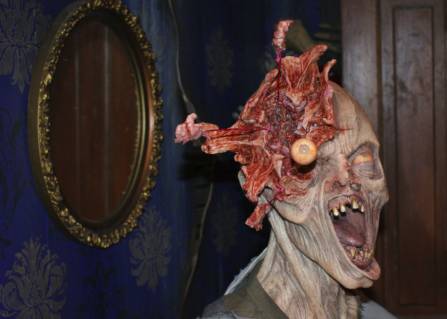 With all those booths to wade through, picking a select few to tell you about was particularly difficult this year, especially as the "home haunter" now has so many unbelievably cool and reasonably priced options to choose from.  Nonetheless, here are our favorites in no particular order.
2014 GCN's Best of the Halloween & Attractions Show:
When Hinges Creak:  Let's kick it off with this year's Five Bat Award Winner for awesomeness.  Consider When Hinges Creak your helpful, neighborhood haunted hardware store, sort of like Ace, only different.
Owners Jennifer and Alex Lohmann scour the web, garage sales, flea markets, and antique shops for hard-to-find unique hardware.   Then it's back to their shop to cast copies in high-quality resin and apply a variety finishes by hand.  While not structural (they are purely decorative), the pieces are amazingly realistic and will not only add just the right architectural element to your haunted home, but could also be the perfect accessory for your Steam Punk costume.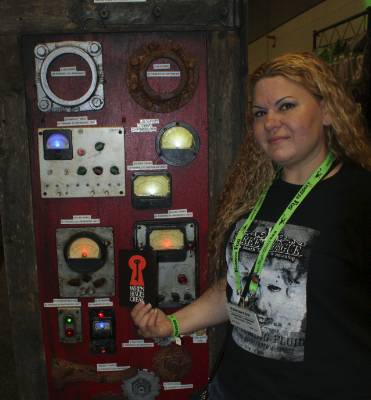 Jennifer Lohmann, your helpful (haunted) hardware gal
Personally, I fell in love with the antique elevator call panel which can be wired to any household electric switch.  I'm installing it beside my sliding library door which sort of looks like it could be the entry to a very old-fashioned lift.
Why…?
Why not?
Illusion Transfers: Nothing says Halloween like answering the door to trick-or-treaters while sporting a freshly slashed throat or werewolf bite mark.
Then again, maybe that's just me.
But if it is you as well, then head on over to Illusion Transfers, whose movie and television special effect transfers are now available to the general public.
Yes, that's right – transfers.  As in like those temporary tattoos you can get applied at amusement parks, only way cooler.
Starting at around $5 and going up to $25, transfer appliances are unique in that they go on quick and can be removed even quicker. Each Illusion Transfer allows anyone to create the same Hollywood quality effect that professional special effect makeup artists are known for.  We watched the guys in the booth apply a truly gross bloody zombie bite effect in under three minutes flat.
Truly impressive.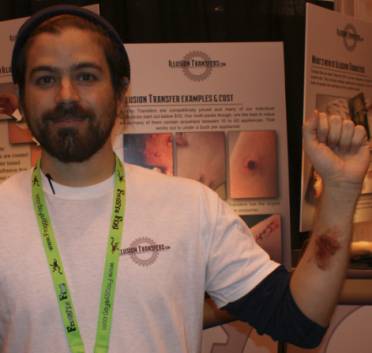 Tommy Herbert and his "zombie bite"
The Attack Line – Life Size Puppets:  Now on to the number one thing on my must-have list.
Walking past the VFX Creative Studios booth, I observed a man, lying on the floor and apparently being eating by a little zombie girl.  At first I thought it was the makeup and costume of the little zombie girl that was being highlighted in this delightful tableaux.  Or maybe it was the prop dead guy she was supposedly feasting on.
But no.
Nothing of what I was seeing was actually true.
The prop dead guy was a real guy playing dead while manipulating a life-sized "puppet" of the zombie girl which was all wrapped around him, just going to town.
The whole thing even had realistic gnawing and tearing sound effects.  It was love at first sight.
What I was really seeing was VFX's "attack line" of puppet effects and there really are no words, which is why you've got to watch this clever short.  Starting at $1400, they are pricier than the products I'd normally feature here except that I've already started a coffin bank "zombie fund" to save up for my own little treasure.  And you will too when you see what I mean.
Monsters Wanted;  As you already know, we here at GCN are avid fans of the whole indy film scene and the HA Show wouldn't be complete without at least one.
Brian Cunningham and Joe Laughrey of Thoughtfly Films talked to us about their award-winning film Monsters Wanted, which follows an everyday guy who decided to follow his dream.
In early 2011, Rich Teachout quit his lucrative job to focus on creating a one-of-a-kind haunted attraction. He and his partner Janel dedicated every moment, ounce of energy, and dollar to making their "Scream Park" a reality. Monsters Wanted is the story of their self-proclaimed madness and the industry, culture, and people who share it. We followed Rich and Janel's efforts from the first day of building beyond the last day of the season. The result is a one-of-a-kind peek into an industry known for its macabre antics and well-guarded secrets.
My first question to Brian and Joe was whether or not the park actually made it, but they wouldn't divulge the name of the attraction or if it was still in business.
Luckily, my cyber-stalking came in handy and I am happy to report that Asylum Haunted Scream Park (Four Attractions at One Scary Location) is alive and well and garnered some great reviews for their 2013 season.  Should you find yourself in or around Louisville, KY this October, drop by and show some love.
Monsters Wanted looks like a lot of fun too and is available at Amazon, iTunes and GooglePlay.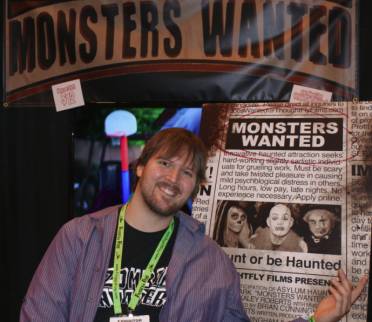 Filmmaker Brian Cunningham
The Gemini Company:  As the proud owner of two original pieces (shrunken head and pigmy skull) by artist John Weisgerber, I can tell you I never get tired of his "fashionable curiosities and sideshow replicas."
John specializes in creature and puppet effects, as well as custom props, models, and special effects for the advertising and entertainment industries.  He is also a fan of the old traveling carnival side shows (is anything creepier?) and has created several pieces based on researching actual exhibits, such as his conjoined twins skeletons and The Fiji Mermaid made famous in P.T. Barnum and Robert Ripley museums.
This year, John outdid himself with a little google-eyed whatever-it-is under glass.  It's mechanical and when activated, those big blue eyes will follow you and the little bandaged hand lightly raps on the glass to get your attention.
The only reason it isn't home with me this minute is that after the second day of tapping on the glass, the poor thing died – for real this time.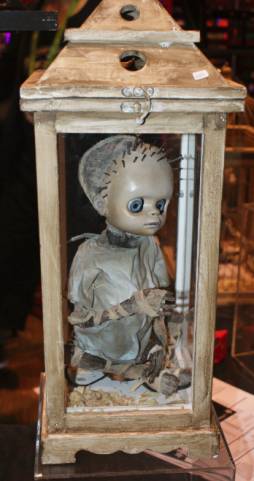 Gemini Company's latest creation wants to come home with you.
Murderforge Masks: Speaking of entrepreneurs, 26 year-old artist Adam Grabowski has launched a line of silicone masks that would make Leatherface envious.
Made of a combination of silicone and silicone foam, the appliances are light-weight, durable, and look nauseatingly like human flesh stitched together.  Starting at around $60, the superb craftsmanship will ensure your mask will be around to pass down to your kids, but I'd keep that part of your will a secret until the last minute.
Adam also specializes in silicone props and custom sculpting and is an aspiring participant in the SyFy Channel's Face Off series (fingers crossed, Adam!).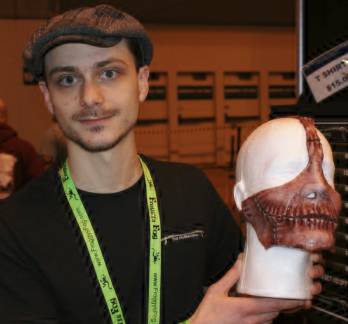 Adam Grabowski and his creation
Skeletons and More: Last, but certainly not least, are the innovative folks who can help you decorate nearly any room with bits of bones.
These days, anyone can have a skeleton prop lying around, but that's hardly what I'd call art.
Skeletons and More can provide you with a wide array of chandeliers made out of skulls from a simple one tier hanging from chains, appropriate for entryways or bathrooms, to a more formal and elaborate five tiers suitable for grand ballrooms or great rooms.  They also have a full range of accessories such as sconces, coat hooks, and candy dishes, all cleverly designed and constructed from what looks like graveyard leftovers.
But what your home really needs is barstools made out of spines (as in vertebrae) and/or a skull gumball machine that dispenses the gum through the grinning jaw.
Now that's what I call a conversation starter.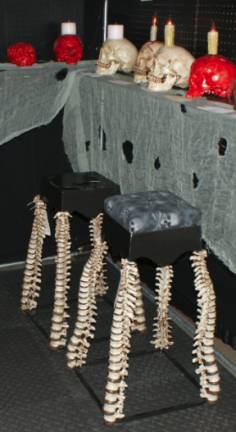 Spinal column bar stools from Skeletons & More
Be sure to visit the websites of the artists we've mentioned here to learn more and show your support, then post a comment or drop a line to sue@blackgate.com.