Future Treasures: Irenicon by Aidan Harte
Future Treasures: Irenicon by Aidan Harte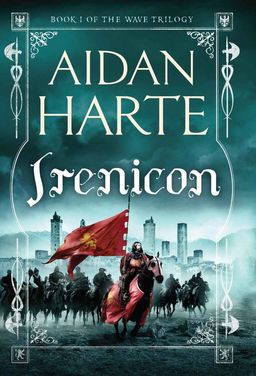 I get a lot of advance proofs. I used to treasure them. I remember I got this advance proof for an upcoming novel by George R.R. Martin back in 1996 called A Game of Thrones. Looked pretty good. I took it with me to Archon in St. Louis and sat in on a very lightly-attended reading — just six of us in a cozy room, listening to George act out the character of a dwarf named Tyrion — and George was gracious enough to sign my copy. I eventually gave it away. No sense holding on to proofs once they've been reviewed; you just clutter up your house.
Point is, it's got to be pretty special to grab my attention these days. The latest fantasy epic from Jo Fletcher books got my attention for two reasons. First, I couldn't make out the title. What that heck is that? Frenicon? Srenicon? (renicon? That's bizarre. Alice, help me out here. I think it's some kind of eye test.
Second, the book features a sentient river. That's right, a sentient river — and not a happy one. That's worth a read right there.
The river Irenicon is a feat of ancient Concordian engineering. Blasted through the middle of Rasenna in 1347, using Wave technology, it divided the only city strong enough to defeat the Concordian Empire. But no one could have predicted the river would become sentient — and hostile.
Sofia Scaligeri, the soon-to-be Contessa of Rasenna, has inherited a city tearing itself apart from the inside. And try as she might, she can see no way of stopping the culture of vendetta that has the city in its grasp. Until a Concordian engineer arrives to build a bridge over the Irenicon, clarifying everything: the feuding factions of Rasenna can either continue to fight each other or they can unite against their shared enemy. And they will surely need to stand together — for Concord is about to unleash the Wave again.
This looks like Aidan Harte's first novel. The sequel, Book II of The Wave Trilogy, Warring States, does not yet have a release date (but you can see the cover here.)
Irenicon (I'm 80% sure that's the title) will be published on April 1, 2014, by Jo Fletcher Books, a division of Quercus. It is 484 pages, priced at $26.99 in hardcover and $9.99 for the digital edition.