New Treasures: Dreamwalker by C.S. Friedman
New Treasures: Dreamwalker by C.S. Friedman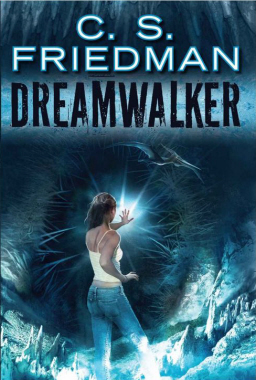 C.S. Friedman is not a particularly prolific writer — but what she does write usually makes an impact. Her first novels, including In Conquest Born and The Madness Season, were science fiction; her more recent Magister trilogy (Feast of Souls, Wings of Wrath, and Legacy of Kings) returned to the sweeping epic fantasy of her popular Coldfire trilogy (Black Sun Rising, When True Night Falls, and Crown of Shadows).
Her new novel, on sale this week, is something brand new for Friedman — a contemporary fantasy. Mixing a woman gifted with visionary dreams, gaming culture, and the very roots of mythology, Dreamwalker is an ambitious new novel with an intriguing premise.
All her life Jessica Drake has dreamed of other worlds, some of them similar to her own, others disturbingly alien. She never shares the details with anyone, save her younger brother Tommy, a compulsive gamer who incorporates some aspects of Jessica's dreams into his games. But now someone is asking about those dreams… and about her. A strange woman has been watching her house. A visitor to her school attempts to take possession of her dream-inspired artwork.

Why?

As she begins to search for answers it becomes clear that whoever is watching her does not want her to learn the truth. One night her house catches on fire, and when the smoke clears she discovers that her brother has been kidnapped. She must figure out what is going on, and quickly, if she and her family are to be safe.

Following clues left behind on Tommy's computer, determined to find her brother and bring him home safely, Jessica and two of her friends are about to embark on a journey that will test their spirits and their courage to the breaking point, as they must leave their own world behind and confront the source of Earth's darkest legends – as well as the terrifying truth of their own secret heritage.
Dreamwalker was published Feb. 4 by DAW Books. It is 400 pages, priced at $19.99 in hardcover, and $10.99 for the digital edition.
See all of our recent New Treasures here.