New Treasures: London Falling by Paul Cornell
New Treasures: London Falling by Paul Cornell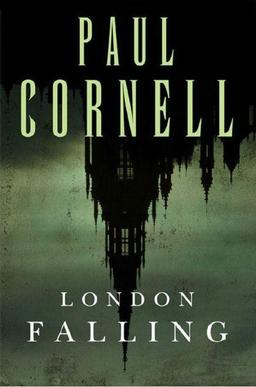 Boy, Tor publishes intriguing books. I keep trying to save a few bucks by waiting until they arrive in paperback, but there are some books that just demand to be read right now.
I admit I was attracted to London Falling first by the great cover. Covers are important to me — ultimately I have time to read less than a third of what I buy, so at least I want my purchases to look good on my shelves. But the book description, which promises an enticing mix of police procedural and supernatural mystery, really sealed the deal.
Police officers Quill, Costain, Sefton, and Ross know the worst of London — or they think they do. While investigating a mobster's mysterious death, they come into contact with a strange artifact and accidentally develop the Sight. Suddenly they can see the true evil haunting London's streets.

Armed with police instincts and procedures, the four officers take on the otherworldly creatures secretly prowling London. Football lore and the tragic history of a Tudor queen become entwined in their pursuit of an age-old witch with a penchant for child sacrifice. But when London's monsters become aware of their meddling, the officers must decide what they are willing to sacrifice to clean up their city.
Paul Cornell's first novels were a series of highly regarded Doctor Who tie-ins, and the SF novels Something More (2002) and British Summertime (2007). This is his first fantasy novel, but he's no stranger to the genre. He wrote three Doctor Who episodes for the BBC, and his comics work includes Batman & Robin, Action Comics, Saucer Country, Demon Knights, and Young Avengers. He's also an acclaimed short story writer and one of only two people to be nominated for the Hugo Award for fiction, comics and television (bonus points if you can name the other one).
London Falling was published by Tor Books on April 16, 2013. It is 403 pages, priced at $24.99 in hardcover, and $11.99 for the digital edition. The sequel, The Severed Streets, is scheduled to be published by Tor on May 20.
See all of our recent New Treasures here.