Vintage Treasures: Nine Horrors and a Dream by Joseph Payne Brennan
Vintage Treasures: Nine Horrors and a Dream by Joseph Payne Brennan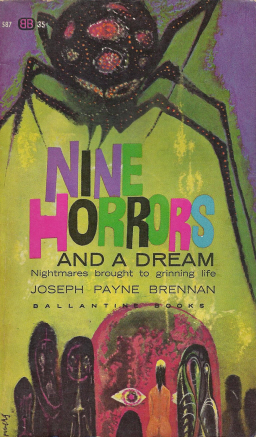 Back in September, prodded on by some comments Douglas Draa made in my article on The People of the Black Circle, I tracked down a copy of Joseph Payne Brennan's short story collection The Shapes of Midnight (which I wrote about in detail here).
I didn't know much about Brennan (that's one of the wonderful things about this hobby — always delightful new authors to discover!) I recently came across him again, this time in a collection of 52 vintage paperbacks I bought on eBay for fifteen bucks — a collection which also included The Unknown and Robert Bloch's Nightmares. (Here's a pic of the set, since I know I'm gonna get questions about it). The book this time was titled Nine Horrors and a Dream, a very slender paperback containing, not too surprisingly, 10 stories.
Once again I turned to the experts to find out more. Our buddy Douglas Draa talks in detail about the book on his blog, Uncle Doug's Bunker of Horror. Here's what he has to say, in part:
Nine Horrors and a Dream has been one of my most sought after books these last several years… the wonderful "Richard Powers" cover art has help to maintain the high interest in this specific collection. So I was very happy to get this book at a fair price…

What I enjoy so much about these stories is Mr. Brennan's economy of word, sense of place and strong mood. Most of his stories [are] fairly short, but he stills manages to make them into fully fleshed out reading experiences. Nine Horrors and a Dream is a prime example… That calibre of writing [isn't] something you stumble across every day.
More than enough of an endorsement for me. I find it curious that there's some story duplication with The Shapes of Midnight, though. And while we're asking questions, which story is the dream? I suppose that's all part of the mystery. I plan to dig into in this weekend and find out.
Nine Horrors and a Dream was published in 1962 by Ballantine Books. It is 122 pages, originally priced at 35 cents in paperback. It was originally published in hardcover by Arkham House in 1958. It has been out of print for over five decades. I bought my copy for about 30 cents, as part of a collection.