New Treasures: Allegiance by Beth Bernobich
New Treasures: Allegiance by Beth Bernobich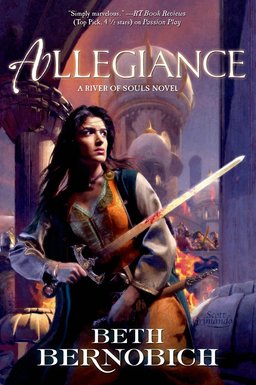 You can always tell the books that get a serious buzz here at Black Gate — because the review copies always vanish. I try to track them down and discover they've been passed from hand to hand until almost everyone on staff has read them. Except for me, of course. I can never find the damn things.
That's what it's been like with the novels of Beth Bernobich and her River of Souls trilogy. I still have no idea what happened to the first volume, Passion Play… I gave up looking for it after I learned my son Tim took it off to college. I'm trying to run a blog here, people. Work with me.
And so it is with the third volume, Allegiance. I have no idea where it is. I'm writing this based on the release notes. I think I just have to accept the inevitable: that I'll have to draft New Treasures posts for Beth Bernobich's novels without ever having the book in hand. I'm forced to rely on what I can glean from brief sightings during staff meetings and scattered Internet rumors. Enjoy.
King Leos of Károví, the tyrannical despot whose magic made him near immortal and who controlled a tattered empire for centuries through fear and intimidation, is finally dead. Ilse Zhalina watched as the magical jewels that gave him such power reunited into a single essence, a manifestly God-like creature who then disappeared into the cosmic void. Ilse is now free to fulfill her promise to Valara Baussay, the rogue Queen of Morennioù, who wants to return to her kingdom and claim her throne.

Ilse will do all in her power to help Valara if only as a means to get to her home. Home to her lover, Raul Kosenmark, who is gathering forces in their homeland of Veraene now that Leos is dead in order to save them from an ill-advised war. Pulled by duty and honor, Ilse makes this long journey back to where her story began, to complete the journey she attempted lives and centuries before and bring peace between the kingdoms. Along the way she learns some hard truths and finally comes to a crossroads of power and magic. She must decide if duty is stronger than a love that she has sought through countless lifetimes.

Will Ilse give up her heart's desire so that her nation can finally know lasting peace?
Allegiance was published by Tor Books on October 29. Best guess, it is 320 pages, priced at $25.99 in hardcover, and $12.99 for the digital edition. I dunno who painted the cover, but I like it.