New Treasures: The Shambling Guide to New York City by Mur Lafferty
New Treasures: The Shambling Guide to New York City by Mur Lafferty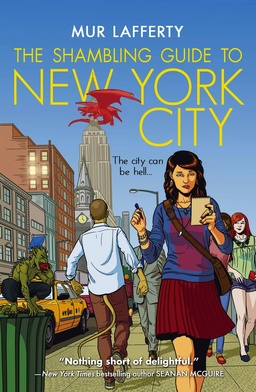 Mur Lafferty is something of a renaissance woman. She was the host and co-editor of the horror podcast Pseudopod until July 2007; in 2010 she became the editor and host of the weekly SF podcast magazine Escape Pod. She's also the host of I Should be Writing (when does she find time to actually write?), and a winner of the Podcast Peer Award and the Parsec Award.
Apparently, she must make time somehow. She's the author of two previous novels (Playing for Keeps, and Nanovor: Hacked), and her third novel is out from Orbit Books. Zoe Norris is a travel writer forced to take a job with a shady publishing company in New York, only to discover she's been tasked with writing a tour guide for the undead. Scott Sigler said of The Shambling Guide to New York City, "If Buffy grew up… moved to New York and got a real job, it would look a lot like this." Sounds plenty intriguing to me.
Because of the disaster that was her last job, Zoe is searching for a fresh start as a travel book editor in the tourist-centric New York City. After stumbling across a seemingly perfect position though, Zoe is blocked at every turn because of the one thing she can't take off her resume — human.

Not to be put off by anything — especially not her blood drinking boss or death goddess coworker — Zoe delves deep into the monster world. But her job turns deadly when the careful balance between human and monsters starts to crumble — with Zoe right in the middle.
The Shambling Guide to New York City is the first novel in The Shambling Guides series; the second volume, Ghost Train to New Orleans, is due March 4, 2014.
The Shambling Guide to New York City was published by Orbit Books on May 28, 2013. It is 358 pages, priced at $15 in trade paperback and $9.99 for the digital edition. The marvelous cover is by Jamie McKelvie (click for a full-size version).