Try Out Spellbound Magazine
Try Out Spellbound Magazine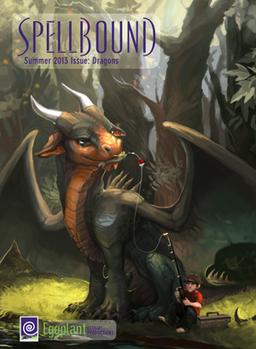 Two weeks ago I reported on the great work editor Raechel Henderson was doing with Eggplant Literary Productions. The impetus was dropping by her booth at Windycon, where I saw the fabulous array of new fantasy novels and novellas she'd recently released, including new e-books from Lenora Rose, Laura J. Underwood, Lori Ann White, Patricia Russo, Martin Clark, and many others.
Eggplant is effectively a one-woman show, so I was tremendously impressed to see so many new titles. I know what it's like to finance, edit, art direct, design, layout, produce, market and distribute one issue of a genre magazine every year… so just seeing the host of new releases Raechel had published in the last 12 months meant I needed to go have a bit of a lie down.
It's not just her surprising accomplishments in the area of e-books, which are only a small part of Eggplant. On top of the book line, Raechel also produces the excellent Spellbound, a thriving new magazine that has published 19 issues since 1999.
Spellbound is a children's fantasy e-zine  for kids 8-12 years of age, which makes it almost unique in the marketplace. It was originally launched in Fall 1999 and went on hiatus after 15 issues, after  the Spring 2003 issue. It was re-launched in Winter 2012 with greatly increased production values, including gorgeous color covers; so far Raechel has released four new issues like clockwork.
If you enjoy children literature — or have an inquisitive or imaginative child in your life — Spellbound makes a great value. Each issue contains original stories, poetry, art, and a Recommended Reading list, all centered around a special featured creature. The Fall 2013 issues showcased Creatures of the Deep, Dark Woods, with gorgeous cover art by Francesca Resta; the Summer 2013 issue focused on Dragons (click on the image at right for the full-sized cover art).
Individual issues of Spellbound are $5.00 (US) each; a four-issue, one year subscription is $20.00 (US). Order directly from the Eggplant website.
What's next for Raechel and Eggplant Production? I'm not certain, but I'm looking forward to seeing what they produce next. Ignore them at your peril.