Goth Chick News: The Devil and Leonardo DiCaprio in the White City
Goth Chick News: The Devil and Leonardo DiCaprio in the White City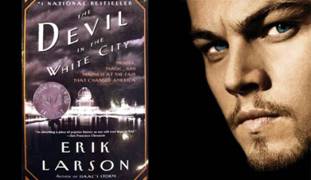 The last time we heard anything about a possible film version of one of my very favorite books, Erik Larson's The Devil in the White City: Murder, Magic and Madness at the Fair That Changed America, Leonardo DiCaprio's company had just optioned it and attached the actor to the project.  Way back then DiCaprio had yet to shoot either J. Edgar or The Great Gatsby, both of which have already come and gone.
And that's what the industry refers to as "development hell."
However, recently it was confirmed that DiCaprio was, and still is, set to play H.H. Holmes, the serial killer who haunted the creation of the 1893 World's Fair in Chicago. We still haven't heard all that much about the film, but Warner Bros. says they are still working to make it a reality, and have hired Graham Moore to script.
It might help to move things along that fellow Chicago native Moore is a huge fan of the book, and has been for some time.  As he told Deadline Hollywood,
[I've been] obsessed with Devil in the White City for a decade. My high school was 50 yards away from where the Chicago World's Fair was held, and I played soccer on a field near where Holmes murdered about 200 people. It was a truly horrible crime, but it's a very Chicago story. Though I moved to LA, I think of myself as fundamentally Mid-Western, and in a weird way, this is a dark and twisted tribute to my hometown.
Nicely put Mr. Moore, I couldn't agree more.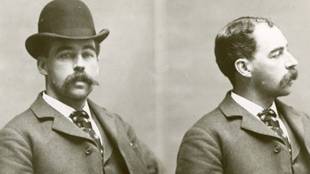 Larson's non-fiction crime-thriller is written in an almost novelistic form.  He utilizes extensive research (nearly three years parked in the bowels of the Newberry Library from what I've heard) and historical facts to tell the parallel stories of architect Daniel Burnham's planning and staging of the 1893 World's Fair in Chicago and the murders of Dr. H.H. Holmes, America's first documented serial killer.
Holmes is believed to be responsible for over 200 murders and used the World's Fair to lure women to their death at his elaborately constructed "Murder Castle."
Daniel Burnham struggled through countless hardships and set-backs to meet the deadline for his massive architectural undertaking, including the death of his partner and building the world's first Ferris Wheel, an attraction intended to rival France's Eiffel Tower, the centerpiece of the previous World's Fair in Paris.
Dr. H.H. Holmes, a pharmacist, built an elaborate hotel to accommodate travelers to the Fair.  The hotel had secret rooms and passageways, hidden chutes to easily dispose of bodies, a gas chamber and even a crematorium to destroy all evidence.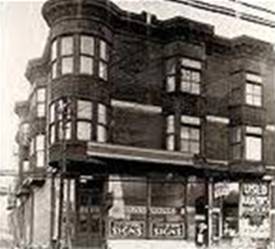 Word is that DiCaprio optioned the book specifically to play Holmes rather than the far more likable character of Burnham because he wanted to portray an entirely unsympathetic "bad guy."
Holmes certainly provides a challenging, complex and potentially Oscar-caliber character for DiCaprio to bring to life.
And though DiCaprio has ended up dead in his films before, this would be the first time when audiences might actually cheer his demise.  Holmes was eventually apprehended and hanged for his heinous crimes in 1896 at the Philadelphia County Prison.
In homage to the 120th anniversary of the White City, and as promised last week we'll soon be posting an interview with filmmaker and Holmes biographer John Borowski, the creative mind behind the indy film, H. H. Holmes: America's First Serial Killer. Until then, post a comment or drop a note to sue@blackgate.com.
---
A Happy and Safe Thanksgiving to All of You From All of Us at Goth Chick News.