Last Chance to Win a Copy of Howard Andrew Jones' Stalking the Beast
Last Chance to Win a Copy of Howard Andrew Jones' Stalking the Beast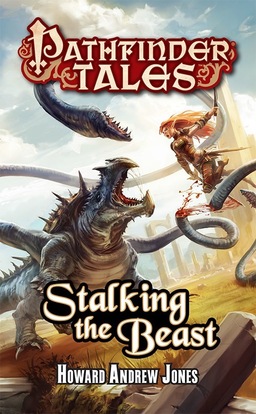 Two weeks ago, we announced a contest to win one of five copies of Stalking the Beast, compliments of Paizo Publishing.
In the weeks since the book's release, Howard has been interviewed by Suvudu, released a sample chapter from the book, and posted the first two parts of his new story "Bells For the Dead," featuring the gunslinging bounty hunter Lisette from Stalking the Beast, at Paizo.com.
Man. I need a full-time staff just to keep up with the guy.
How do you win one of those sweet giveaway copies? Easy — just tell us about your favorite sword & sorcery tale — novel or short story. Send us a one-paragraph review telling us what makes it so special, and be sure to include the author and (if it's a short story) where you read it.
We'll publish the best responses here on the blog and randomly draw five names from all qualifying entries. Those five winners will each receive a copy of Stalking the Beast, compliments of Paizo Publishing.
To enter our contest, just send an e-mail to john@blackgate.com with the title "Stalking the Beast," and your one-paragraph entry, before December 1, 2013.
All entries become the property of New Epoch Press. No purchase necessary. Must be 12 or older. Decisions of the judges (capricious as they may be) are final. Terms and conditions subject to change as our lawyers sober up and get back to us. Not valid where prohibited by law, or outside the US and Canada.
Good luck!