Tom Clancy, April 12, 1947 – October 1, 2013
Tom Clancy, April 12, 1947 – October 1, 2013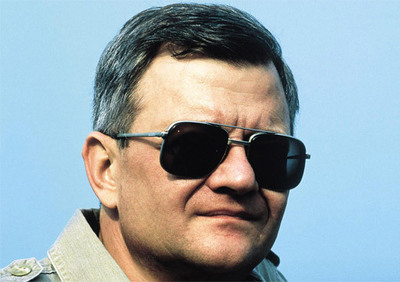 Thomas Leo "Tom" Clancy, Jr, one of the top-selling authors of the past three decades, died yesterday after a brief illness.
Clancy published his first book, The Hunt for Red October, though the tiny Naval Institute Press in 1984. He'd written several articles for the Proceedings of the Naval Institute and, although they'd never published a novel, he sent them Red October after it was rejected by several major publishers. To his surprise, they accepted it and paid him a small advance.
President Ronald Reagan turned the book into a best seller when he mentioned it during a televised press conference, saying it was "unputdown-able" and a "perfect yarn." It sold more than five million copies, and became a hit film in 1990 starring Alec Baldwin and Sean Connery. Clancy won a $3 million contract with mainstream publisher Putnam Penguin for his next three books.
Clancy published a total of 28 books, 17 of which hit The New York Times best-seller list — many at No. 1. His novels have been licensed for several major video game franchises, including Rainbow Six, Ghost Recon and Splinter Cell. Eight of his books feature his most famous character, CIA agent Jack Ryan, including The Hunt for Red October, Patriot Games (1987), The Cardinal of the Kremlin (1988), Clear and Present Danger (1989), and The Sum of All Fears (1991).
Ryan returned in Debt of Honor (1994), in which a fictional war with Japan results in the destruction of the U.S. Capitol building during a joint session of Congress, elevating the reluctant Vice President Ryan to the Presidency; he returned again in Executive Orders (1996) and Red Rabbit (2002). Four of the Ryan novels — The Hunt for Red October, Patriot Games, Clear and Present Danger, and The Sum of All Fears — have been adapted as feature films, with Alec Baldwin, Harrison Ford, and Ben Affleck playing Jack Ryan.
Clancy's final novel Command Authority, which will also prominently feature Jack Ryan, will be released in December.
Clancy passed away yesterday in a Baltimore hospital near his Maryland home. He was 66.