J.K. Rowling Green Lights New Films in Harry Potter Universe
J.K. Rowling Green Lights New Films in Harry Potter Universe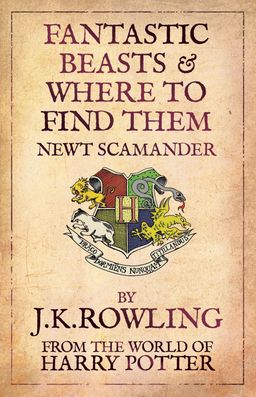 Word is bouncing around literary and media circles that the most popular franchise of the 21st Century — indeed, perhaps the most popular book series of all time — will be extended with new films.
Warner Bros. announced Thursday that the Harry Potter media franchise will expand with a series of spin-off films, inspired by Fantastic Beasts and Where to Find Them. Written by (fictional) author Newt Scamander, Fantastic Beasts was the textbook  introduced by Hagrid in his Care of Magical Creatures class in Harry Potter and the Prisoner of Azkaban — and later written and published by Rowling in a slender 42-page edition in 2001, shortly after Prisoner of Azkaban was released.
CEO of Warner Bros. Entertainment  Kevin Tsujihara elaborated in a statement:
Fantastic Beasts and Where to Find Them will be an original story. It is planned as the first picture in a new film series. Set in the wizarding world, the story will feature magical creatures and characters, some of which will be familiar to devoted Harry Potter fans.
I have to be honest and admit that I didn't even know Rowling had written a real version of Fantastic Beasts and Where to Find Them and I had to look it up to make sure it was real (it is). It's available in a combo-pack with Quidditch Through the Ages from Scholastic Books.
The movie is unusual in another respect — it will be the first one with a screenplay written by Rowling. The films will focus on the adventures of Newt Scamander and be set long before Harry's birth. Here's part of Rowling's statement:
I already knew a lot about Newt. As hard-core Harry Potter fans will know, I liked him so much that I even married his grandson, Rolf, to one of my favourite characters from the Harry Potter series, Luna Lovegood… Fantastic Beasts and Where to Find Them is neither a prequel nor a sequel to the Harry Potter series, but an extension of the wizarding world… Newt's story will start in New York, 70 years before Harry's gets underway.
The release date for the first film has not been announced.