New Treasures: Cobweb Bride by Vera Nazarian
New Treasures: Cobweb Bride by Vera Nazarian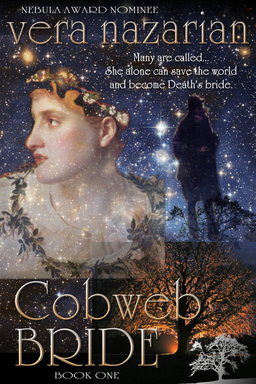 There's lots of perks to running the Black Gate global mega-publishing empire. For one thing, I enjoy being part of the "lamestream media," telling America what to think and do, ignoring today's critical issues so I can focus on movies about giant robots. That's satisfaction right there. Plus, those Manhattan press parties are a blast. Seriously, I could tell you stories.
But the best part of publishing is discovering new talent, the emerging short fiction writers of today who will be the towering giants of the field tomorrow. Writers like Vera Nazarian, whose brilliant short story, "Niola's Last Stand," we published earlier this year. Strangely, no one seems to have told Vera that she's expected to toil away in obscurity for years before vaulting to superstardom — she's already accumulated two Nebula noms, and her just-released novel, Cobweb Bride, looks like a clear contender for one of the most talked-about books of the year. Some people have no respect for due process.
Well, we know how to cash in on a good thing. So we asked Vera for an exclusive quote explaining Cobweb Bride to our readers ("Quick — while she's still taking our calls.") Here's what she told us:
Cobweb Bride is a story of Death and Love and loss and intensity, a strange twist on the Persephone myth set in an alternate Renaissance Europe. Enter the Uncanny Valley of the Shadow of Death. This is a place at the heart of the Brothers Grimm and in the mind of Dante, in the gut of Ouroboros, in the mouth of Hell, and in the eye of a glittering Imperial Court rivaling the splendor of Louis XIV's Versailles.

It is an epic fantasy of love and eldritch wonder, about death's ultimatum to the world.
Does that sound awesome, or what? What did we tell you? Pay attention, we won't steer you wrong.
Cobweb Bride is the first book of the Cobweb Bride Trilogy. It was published by Leda on July 15. It is $14.95 in trade paperback, and just $5.99 for the digital edition.