James Frenkel Leaves Tor
James Frenkel Leaves Tor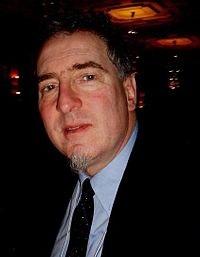 Long-time editor James Frenkel has left Tor Books.
Frenkel was one of the most accomplished editors at Tor — indeed, in the entire industry. I first came across his name in the mid-80s, when he was publisher of Bluejay books, a science fiction imprint that produced trade paperback editions of K.W. Jeter, Theodore Sturgeon, Philip K. Dick, Harlan Ellison, Connie Willis, and many others. Among many other accomplishments, Bluejay Books first began publishing Gardner Dozois's The Year's Best Science Fiction anthologies.
Frenkel joined Tor after the collapse of Bluejay in the late 80s, where he edited some of the biggest names in the industry, including Vernor Vinge, Joan D. Vinge, Frederik Pohl, Andre Norton, Dan Simmons, Jack Williamson, Timothy Zahn, Greg Bear, and many others.
Frenkel's departure from Tor comes following accusations of sexual harassment, stemming from an incident at Wiscon reported by Elise Matthesen:
Two editors I knew were throwing a book release party on Friday night at the convention. I was there, standing around with a drink talking about Babylon 5, the work of China Mieville, and Marxist theories of labor (like you do) when an editor from a different house joined the conversation briefly and decided to do the thing that I reported. A minute or two after he left, one of the hosts came over to check on me… So I reported it to the convention. Somewhere in there they asked, "Shall we use your name?" I thought for a millisecond and said, "Oh, hell yes."
While Matthesen did not immediately identify the editor in question, he was famously ID'd by Mary Robinette Kowal in her June 18 blog post "Why am I afraid to name the editor?" Yesterday Tor senior editor Patrick Nielsen Hayden made the announcement via Twitter that James Frenkel was no longer associated with Tor Books.
Frenkel currently lives in Madison, Wisconsin, with his wife, Joan D. Vinge. He has not yet made any public announcement regarding the issue.