New Treasures: Dead Boys by Michael Penkas
New Treasures: Dead Boys by Michael Penkas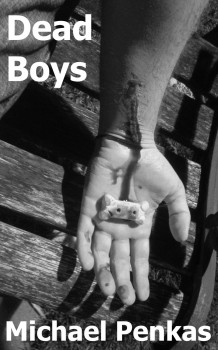 I first met Michael Penkas in 2010 at the Top Shelf Open Mic in Palatine, Illinois, a friendly local reading event hosted by C.S.E. Cooney.
The Top Shelf Open Mic has attracted some extraordinary talent over the years. Gene Wolfe read chapters of his upcoming novel The Land Across, Joe Bonnadonna shared early drafts of Waters of Darkness, David C. Smith read from his supernatural thriller Call of Shadows, and of course C.S.E. Cooney regularly entertained us with boundless energy, reading from The Big Ba-Ha, Jack o' the Hills, and other acclaimed publications.
But I don't think it's an exaggeration to say that Michael Penkas has become the unexpected true star of our local reading group. His creepy and electrifying short stories have mesmerized us month after month.
Michael has an uncanny ability to pry open your heart with sparkling prose, humor, and warm and genuine characters… and then drive a cold spike through it with relentless and diabolical twists. All with some of the most compact and economical prose I have ever encountered.
Michael has published over a dozen stories since 2007. While he's best known for his extremely effective horror and dark fantasy, he's equally at home with mystery, science fiction, and gonzo humor — as his upcoming story for Black Gate illustrates. "The Worst Was Yet to Come," a chilling retelling of Moses's unexpected conversation with God immediately after the Ten Plagues of Egypt, will appear here this Sunday. It's sure to win him many more fans, or possibly get him strung up — or both.
Michael has just released his first — and long awaited — collection, assembling four of his earliest published stories. It's a delightful sampling of some of the best work of a fast-rising dark fantasy and horror author.
Here's the book description:
They're not hard to find, if you know where to look. In the back of a pub after happy hour. In a dorm room between semesters. In a dog park after sunset. In a hospice room on Christmas Eve. Dead boys.

Michael Penkas brings you four stories about the dead who refuse to leave and the living who refuse to let them go.

"Parable of the Lazy Rooster" – A priest offers consolation and the most exotic drink on Earth.

"Cold Comfort" – A prostitute visits the scene of a tragedy in order to render her own brand of absolution.

"Wet Dog Perfume" – A lonely man mourns the death of one friend as he makes another.

"Midnight Cappuccino" – Christmas Eve brings together a family separated by more than miles.
Dead Boys is available now through Amazon and Smashwords for just $2.99.
Michael has been our website editor here at Black Gate since August of 2012. He's also our regular Tuesday blogger, and just wrapped up a lengthy retrospective of Red Sonja, one of the most popular blog series we've ever published.
Learn more at his blog at michaelpenkas.blogspot.com, and on his Amazon page.