Try a Free Preview of IDW's Dungeons & Dragons: Cutter #1
Try a Free Preview of IDW's Dungeons & Dragons: Cutter #1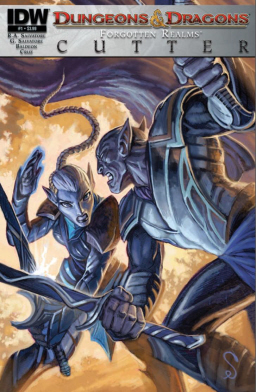 IDW's Dungeons and Dragons comics have been my favorite D&D comics since… well, ever, really. Which is saying something, since some pretty respected publishing houses — including Marvel, DC, and Kenzer & Co — have tried their hand over the decades.
IDW's comics have been successful, as well. Enough that they've spun off a number of titles in the game's most popular settings, including Forgotten Realms, Eberron, and Dark Sun. Now IDW has announced another entry in their impressive line of D&D titles: Cutter, a five-issue miniseries written by R.A. and Geno Salvatore, with art by David Baldeon and covers by Steve Ellis.
Cutter follows the saga of a fiercely divided drow family… and a legendary sword. When the battle-hardened Drow renegade Tos'un must choose an heir to his legacy, his half-Drow son Tierflin and daughter Doum'weille become locked in vicious competition. But what will the prize, the bloodthirsty sword Khazid'hea — known as the Cutter — have to say? Author R.A. Salvatore tells us:
These comic series have become a wonderful tool for me to fill in the blanks and to crystallize my thoughts on the Legend of Drizzt novels going forward. The fallout from the twisting events in Neverwinter Tales not only came into play in the last couple of Drizzt books, but allowed me a strong plot line for an upcoming novel I've yet to pen. The same is true for Cutter — I see it already. So while these comic stories are self-contained, they open up to the wider stories.
We're very pleased to be able to offer a preview, in high resolution full-color PDF format. Click on the link below to enjoy the first seven pages of Cutter, compliments of IDW.
Dungeons & Dragons: Cutter #1 will be published by IDW Publishing on April 17.  It is 32 pages in full color, priced at $3.99.